World of Illusion Starring Mickey Mouse and Donald Duck
aka: I Love Mickey & Donald: Fushigi na Magic Box, World of Illusion Starring Mickey Mouse & Donald Duck
Description
World of Illusion is a follow-up to Castle of Illusion. Mickey Mouse and Donald Duck are taken to a magic world and have to get back home. In order to do that, they can play magical tricks and interact with each other in a two-player cooperative mode.
Like many other Disney games of the time period, the game has cartoon-like graphics and is played as a side-scrolling platformer. Both Mickey and Donald can run, jump, or attack with their capes. Magic spells are learned after boss battles, and are later used as transportation means, e.g. flying on a magic carpet, building a bridge out of cards, etc.
While Mickey can squeeze through certain gaps, Donald must find alternate routes in the single-player mode. If two players are controlling them, Mickey can pull Donald through a gap. The two can also stand on each other's shoulders and lower ropes to access certain areas.
Spellings
アイラブ ミッキー&ドナルド ふしぎなマジックボックス - Japanese spelling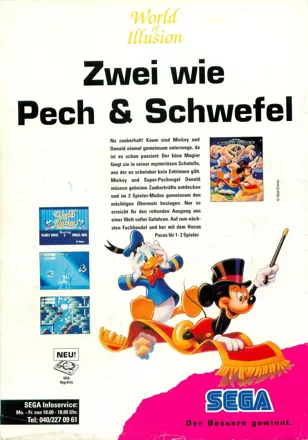 Credits (Genesis version)
21 People (18 developers, 3 thanks)
Contribute
Know about this game? Add your expertise to help preserve this entry in video game history!