Adventureland
aka: Scott Adams Adventure Series: Adventure 1 - Adventureland, Terre d'aventure
Moby ID: 9818
Adventureland is the first of Scott Adams' text adventures. Using simple two word commands you explore an enchanted world, solve puzzles and try to recover 13 lost treasures.
The game's display is different from other adventure games like Zork: The Great Underground Empire in that the screen is divided into two "windows": the room description, exits, and items appear on the top part of the screen, and you enter commands on the bottom of the screen.
Spellings
Adventure Land - Alternate spelling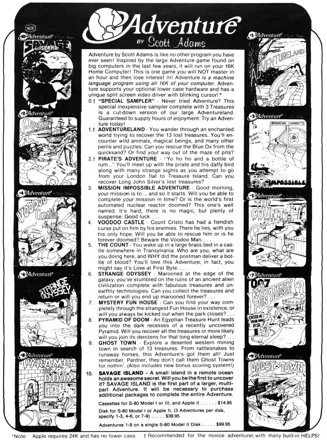 Credits (TRS-80 version)
9 People (2 developers, 7 thanks)
| | |
| --- | --- |
| By | |
| Cover art | |
| Acknowledgements to | |
Critics
Average score: 90% (based on 3 ratings)
Players
Average score: 2.8 out of 5 (based on 44 ratings with 0 reviews)
Be the first to review this game!
Trivia
Alexis Adams
Frustrated and fed up with her husband's preoccupation with his homebrew microcomputer text adventuring system, his wife (and later Adventure International contributor) Alexis Adams hid the master floppy disks of his source code in various spots around the house -- culminating in his finding them in the oven one night, apparently ultimately without the intended, destructive effect. She jokes about the incident: "I guess [it] should have been the start of the first Adventure.
GO KITCHEN
ALL I SEE HERE IS AN OVEN, A SINK, AND A COUNTER.
LOOK OVEN
A SCREAM IS HEARD AS THE OVEN OPENS. EEEK ITS MR ADAMS SCREAMING 'OH NO MY DISKS ALLLLLLLLLLLLEXIS'"
Demo
An Adventureland Demo package was released in 1979. It is a sampler of the original game, brought to the market as a retail demo. As a cut-down version it contains 3 treasures.
Packaging
When Adams tried to sell the original TRS-80 version, he had to come up with a cheap packaging. As he just had a one-year old kid around the house, he was inspired to use baby bottle liners as instant packaging.
Awards
ACE

February 1991 (issue #41) - Included in the list Greatest Games of all Time, section Adventure Games (editorial staff choice)
Information also contributed by Sciere
Contribute
Are you familiar with this game? Help document and preserve this entry in video game history!