Hugo's House of Horrors
aka: Hugo 1, Hugo's Horrific Adventure
Moby ID: 1023
Hugo's sweetheart Penelope has vanished after visiting a haunted house on a babysitting job. In order to save her, Hugo must explore the area around, within, and beneath the house and solve its mysteries, while surviving its many perils.
Hugo's House of Horrors is a graphic adventure game, controlled with a combination of the arrow keys for movement, and typed commands such as eat steak to interact with the environment. Some challenges are puzzles which must be solved by clever use of items found in the house, while others require quick and careful movement, or test the player's knowledge.
This game is the first game in the Hugo's House of Horrors shareware trilogy. This full game was released as a taster for the full trilogy which includes this game plus the titles Hugo's Mystery Adventure, Hugo's Amazon Adventure, a hint book and an automatic solver which plays the game like a movie.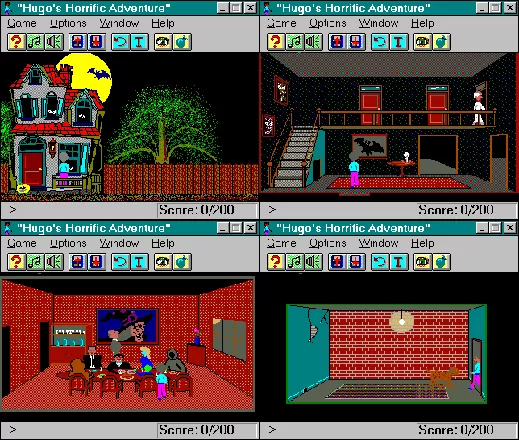 Critics
Average score: 39% (based on 5 ratings)
Players
Average score: 3.2 out of 5 (based on 34 ratings with 2 reviews)
The Good
While the 16-color graphics remain largely the same as the DOS version, the menu interface is a lot more user friendly. The accompanying music tracks certainly lighten (or is that darken?) the atmosphere and there are the sounds of monsters straight from Nitemare 3D. It's also quite funny that when you use profanity as commands, the computer has humorous responses.

The Bad
If you're familiar with the puzzles and commands, this shouldn't be a problem, but there's no improvement where it was needed the most. There should have been synonyms for commands like UNDO BOLT such as SLIDE or PULL BOLT, because those very specific commands make it hard to progress without a walkthrough. It's like the game's system is toying with your mind and giving you brain freeze. Then you get awkward dead end situations which are pretty much King's Quest standards. Finally, answering the general knowledge questions at the end might not be fair to non-US players, who may not know all the answers, they would need an encyclopedia back in the early 90s.

The Bottom Line
If you missed this classic adventure game on DOS, then you've got another chance to try it out on Windows. Not the biggest improvement, but a good one. This game is smaller than most Sierra adventures, but bigger than a straight up text adventure. You don't need to wait for Halloween to play it, it's quite fun on your first try with a whole house to explore.
Windows · by Kayburt (27432) · 2022
The Good
What's there to like about this? This is actually a very good question. The 'production values' of this game (if they were called that at the time) are apparently fairly low, and pale in comparison to the many excellent adventure games released by Sierra, Lucasarts, and other, smaller companies. But for all this, Hugo's house of horrors has that certain charm to it. It's difficult to explain, but if you play the game for a short while, even for half an hour, you'll probably remember the game for life.
That's what it's got going for it. Not the puzzles (they're actually very easy, most of the time) or the dialogue (I think you can write every description or bit of dialogue in the game on two sheets of paper, really), or the graphics, which are fairly crude, even by 1990 standards. But it's these supposedly negative points, along with that little charm to it, that just makes it so appealing and memorable. That's all I can say, it's that abstract and that complex an issue, but there you have it.

The Bad
I can't say there's much I didn't like about the game since the negative points that I mentioned earlier all just give the game it's appeal. But if there is a point that I really didn't like (and has no redeeming value) is the trivia questions and riddles asked by a certain character at one point in the game. When I was a kid they were what stopped me from finishing it, and as an adult, I find them very annoying and meaningless, and they don't add a single bit to the game's value or fun factor at all.

The Bottom Line
Consider this game a sort of B-movie. It's sub-par compared to the other, more mainstream games of the era, but it just has that special something that makes you wanna play it and causes it to be a cult classic. Just like the many B-movies out there that have small, but dedicated followings (or people who view them ritualistically at certain times), this is the same thing for adventure games of the era.
One thumb up, just one one... and a wink.
DOS · by Salim Farhat (69) · 2008
Trivia
Development
According to this interview the original DOS version of the game was programmed in C using Microsoft QuickC. The later Windows version, which included a new point and click interface option, was programmed using Microsoft Visual C++.
Contribute
Are you familiar with this game? Help document and preserve this entry in video game history!