Hugo II: Whodunit?
aka: Hugo's Mystery Adventure
Hugo II: Whodunit? is the second game in the Hugo adventure game series.
Hugo and his wife, Penelope, arrive to stay at the mansion that belongs to Hugo's Great Uncle Horace. Penelope falls asleep in the bedroom, while Hugo accidentally finds a bookcase passage and is locked in a secret room. Penelope wakes up, only to witness Uncle Horace's murder through the keyhole. The player controls Penelope (and later, briefly, Hugo) and must solve the murder.
Much like its predecessor, Hugo's House of Horrors, Hugo II: Whodunit? is an adventure game in the style of Sierra's AGI games. The player moves Penelope with arrow keys and types in commands on the bottom of the screen.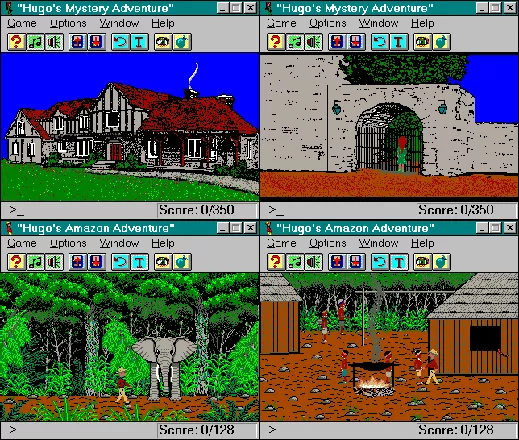 Credits (DOS version)
| | |
| --- | --- |
| Original Concept | |
| Project Leader | |
| Lead Design | |
| Lead Programming | |
| Sound | |
Trivia
Bugs
Two Penelopes: When trying to cross the Chasm to get the Moldy Banana, purposely fall into the pit. Before you stop spinning press left or right, another Penelope will appear. Unfortunately, it has no use.
Contribute
Know about this game? Add your expertise to help preserve this entry in video game history!