The Smurfs
aka: De Smurfen, De wraak van de Smurfen, Die Schlümpfe, Die Schlümpfe schlagen zurück, Die Schlümpfe: Schlumpfe sich wer kann, I Puffi, La Revanche des Schtroumpfs, La rivincita dei Puffi, La venganza de los Pitufos, Les Schtroumpfs, Los Pitufos, Os Estrumpfes, The Revenge of the Smurfs
Moby ID: 11900
Free the Smurfs before Gargamel smurfs then all! Platform game where you will be able to play with the jockey smurf, the brainy smurf, the greedy smurf and the hefty smurf to resolve the adventure. All of the classic SMURF characters are along for the adventure, guaranteeing you a Smurf-tastic time.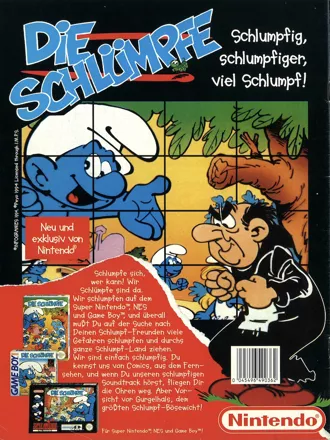 Credits (SNES version)
20 People (16 developers, 4 thanks)
Programmed by
Designed by
Graphics
Music
Directed by
Publishing
Executive Producer
Produced by
Special Thanks

IMPS
All the play testing department
Critics
Average score: 72% (based on 17 ratings)
Players
Average score: 3.8 out of 5 (based on 26 ratings with 1 reviews)
Another good Infogrames platformer

The Good
- Solid graphics, every level is unlike another and offers nice variety of colors.
- Most levels are standard go-from-left-to-right experience (something I actually like). This monotony is broken by some other levels (e.g. mines, log jumping, ...)

The Bad
- No real complaints.

The Bottom Line
Like other Infogrames' platformers, "The Smurfs" is a solid straightforward platformer that neatly brings up nostalgia from a cartoon I used to watch in the 80's. But, in my honest opinion, unlike Asterix & Obelix, this one is a bit easier, i.e. you won't die that often.
You won't have to study endless manuals and game mechanics in this one. After a hard day at work, "The Smurfs" is a game you can just dive into and not rage-quit after you die. This is something only a few other games (like Civilization 1&2) offered me in all these years.
(Beware: Besides Left+Right+Jump keys there is also a "run" key. Pushing it while jumping makes for longer jumps and it also makes the game much easier. Besides, after one point in the game (somewhere in the forest) you won't be able to progress without knowing this key.)
DOS · by Slug Cat (1) · 2017
Contribute
Are you familiar with this game? Help document and preserve this entry in video game history!