Description
Silkworm is a classic horizontally-scrolling shoot-em-up. The main difference between this game and many other side-scrolling shoot-em-ups is that you will be on land as well as in the air.
The first player would play as a helicopter, but if a second player joins the game, they would play as a jeep. Both players would have to protect each other as well as themselves. After a certain number of kills, a "goose" helicopter would form on the screen. If the players managed to destroy it they would get a weapon's powerup. This would go on throughout the entire game, and a "goose" could appear even during the fight with the end-of-level baddie.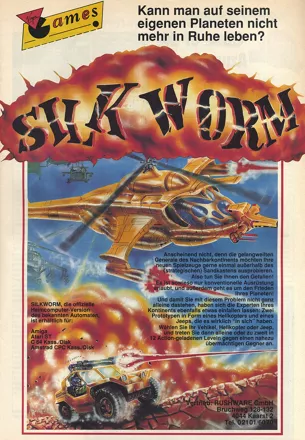 Credits (Amiga version)
5 People
Trivia
Successor
After converting Silkworm to many home computers, Random Access created their own (unofficial) take on the game. This "sequel" is called S.W.I.V., and extended the game and its features. The title officially stood for "Special Weapons Interdiction Vehicle", but the developers later revealed/joked that it meant "IV (4) times better than SilkWorm".
Awards
Amiga Power

May 1991 (issue #00) - #65 in the "All Time Top 100 Amiga Games"

Commodore Format

July 1993 (Issue 34) - Modern Classics: Shoot-'em-ups

Power Play

Issue 01/1990 - #2 Best Action Game in 1989
Issue 01/1990 - #2 Best Arcade Conversion in 1989

Tilt

December 1989 (Issue 72) - Tilt d'or - Meilleur shoot-them-up (best shoot-them-up) for the Amiga and Commodore 64 versions
Contribute
Know about this game? Add your expertise to help preserve this entry in video game history!