The famous fantasy-themed board game was converted into an isometric-viewed role-playing game in which the evil Wizard Morcar must be defeated. You take control of a wizard, a dwarf, a barbarian, and an elf, each with different strengths and weaknesses, who each start the 14 missions from opposite sides of the board.
Strict turn-based movement rules apply, as actions other than movement can only be carried out before or after the move, the size of which is limited by a dice roll. These moves are carried out using an icon-based system. Characters can fight the many monsters which lurk, or cast spells to vanquish them. There are magic potions to uncover, but also hidden traps, so mapping is advised. Treasure can be collected and traded at the shop after each level.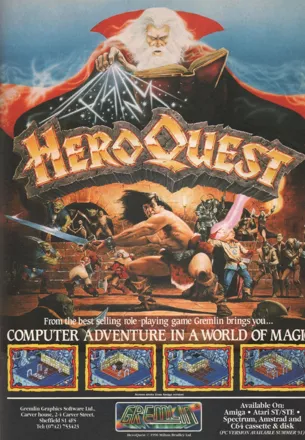 Credits (DOS version)
5 People
| | |
| --- | --- |
| Programming | |
| Intro | |
| VGA Graphics | |
| EGA Graphics | |
| Cover Artwork | |
Trivia
Title
This game itself was the board game that caused Sierra to change the name of Hero's Quest to Quest for Glory.
Awards
Commodore Format

July 1993 (Issue 34) - Modern Classics: FRP & RPG
November 1994 (Issue 50) – #39 The All-Time Top 50 C64 Games
October 1995 (Issue 61) – The Top Ten C64 Games of all Time
NES port
A NES port of the game was in development, but it seems it was cancelled before completion. Dumps of at least two prototypes are known to exist, NTSC and PAL, the PAL version being the most complete.
Contribute
Know about this game? Add your expertise to help preserve this entry in video game history!