Hero's Quest: So You Want to Be a Hero
aka: Hero's Quest I: So You Want To Be A Hero, Quest For Glory: So You Want To Be A Hero
(prices updated 9/30 10:40 AM )
The little town of Spielburg is populated mostly by beer-drinking humans and some centaurs who like working in the field. Spielburg is surrounded by forests and mountains, where all kinds of weird creatures dwell: ogres, goblins, talking foxes, stupid magicians, and others. Lately, Spielburg has been assaulted by brigands; besides, the witch Baba Yaga is not to be trusted. The town has everything it needs--even a Thieves Guild--except a strong, brave hero who would protect it. So when a wandering adventurer enters the town, he quickly realizes that his skills might be of use.
Hero's Quest: So You Want to Be a Hero is a hybrid game that contains Role-Playing and Adventure elements. It is visually very similar to other Quest titles by Sierra (such as for example Space Quest), but the gameplay--besides the usual exploration, conversations with characters, and the solving an occasional puzzle with the help of inventory items--also involves combat and character development. In the beginning of the game, the player chooses a character class for the protagonist--either a Fighter, a Mage, or a Thief. The choice of class will influence not only the combat, but also many other events in the game. Puzzles might have different solutions depending on the class and the amount of ability points in various categories.
The main character's skills and abilities are raised directly by repeatedly performing appropriate actions, e.g. fighting enemies, practicing, climbing, throwing objects, etc. Many of those activities are necessary to perform in order to successfully complete the game. Combat takes the player to a separate screen (represented by the enemy's picture) and involves timed selection of commands such as Attack, Parry, etc. The interaction with the game-world is performed by typing verb commands or conversation topics.
The game features a day/night cycle, which also includes character schedules. The main character can get hungry and tired, so feeding him and getting some rest is essential.
Spellings
הרצון לעוצמה - Hebrew spelling
クエスト・フォー・グローリィ - Japanese spelling
英雄傳奇 - Traditional Chinese spelling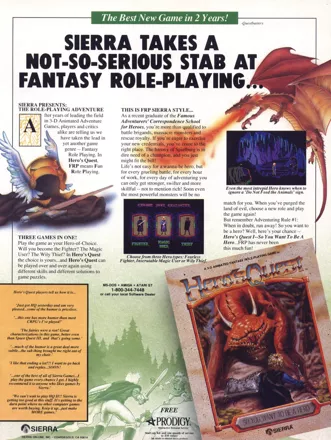 Credits (DOS version)
19 People
| | |
| --- | --- |
| Director | |
| Writing / Dialogue / Story | |
| Programming | |
| Animation & Background Scenes | |
| Music | |
| Interpreter / Development System | |
| Producer | |
| Quality Assurance | |
| Executive Producer | |
| Technical Documentation | |
| Additional Documentation | |
| Cover Artwork by | |
Critics
Average score: 86% (based on 16 ratings)
Players
Average score: 3.9 out of 5 (based on 149 ratings with 13 reviews)
The Good
It has a great battle sequence which isn't that hard once you get used to it. The gameplay is fun and it is full of humor and the various ways to finish the game with different character classes increases the replay by a lot.

The Bad
I bought the game used and it didn't come with an instruction manual, it took me forever to figure out what to do.

The Bottom Line
It's a great game, far better than the next games. The first release is better than the re-release by far.
DOS · by fake (2) · 2002
A solid opening for a great adventure/RPG

The Good
Hero's Quest tells about the first adventure of hero name your choosing. You set towards Spielburg, a town in a valley overrun by brigands, an ogress Baba Yaga and monsters. There's also a reward offered to anyone who can shed light in the case of two lost children of the local baron. So there's plenty to do and even a bit more depending on the character you choose to play with.
As in any RPG you can choose a character from three different classes: a thief, a fighter and a mage. You can also create a hybrid class, so if you know the game there's more ground to cover in a single game play this way.
Playing with fighter is the most straight forwarded thing to do. You choose brawn over brains the most of times, while mage and thief solve many puzzles a bit differently. Thief also has some side quest burglarizing houses and selling his loot at the thieves guild, while the mage (or any magic possessing character) has the possibility to play mage Erasmus's wizard duel.
On a side note, the score system gives points only if you solve puzzles in the way your character core class would even if you play a hybrid, so if you play as a thief/mage you should solve puzzles like a thief, not like a mage, despite that is possible to do.
Adventure/RPG is well balanced. You can spend time grinding your abilities, if you feel like it, but you can also just play the game through with out unnecessary buildup if you so choose. But the grinding is advised, as it does pay off in the sequels if you choose to export your character over to the later games.

The Bad
There's surprisingly little I don't like about the game. All the things I don't like are more like nitpicking, as the game is all around pretty solid.
There's very little music in the game and the sound effects are virtually non existing. The graphics are nice, but not necessarily as nice as in the other Sierra titles of the era. Also the plot is pretty basic, so it doesn't offer that many "whoa" elements.
The different classes also provide a different amount of missions and quest. The fighter is a class, that gets less quests, as if he doesn't know magic he can't duel with Erasmus and giving fighter a thieves properties is futile, as he doesn't get a lock pick or know how to identify as thief, so no guild entry for him.
But, as I said, the things I don't like are merely nitpicking.

The Bottom Line
Hero's Quest, or Quest for Glory as the series was later known, isn't among the most well known Sierra properties but it is among Sierras best properties.
As an adventure game it does much right, giving multiple ways to solve puzzles depending on your character class and the RPG elements give it more flavor, as you can do fighting in the middle of regular "look thing a from place b in order to achieve c" adventuring.
And as a bonus you can start a hero in the first game and export it in all other Quest for Glory games as well, so the feeling on continuity is always present.
DOS · by tomimt (397) · 2011
The Good
Before the big push to make VGA the standard Sierra managed to really squeeze some great looking games out of the old 16 colour EGA card. King's Quest IV and this one being the best of their EGA efforts but beyond nice EGA graphics this game took the already fun Sierra adventure a step further by introducing some RPG elements: combat, character classes and players statistics.
You have the choice of playing three different classes: fighter, magic-user and thief. Each class gave the game enough puzzle differences to make it worth playing over again. The fighter was the most basic of the three, essentially it was like a regular Sierra game with combat added. The magic-user added of course magic, and had the challenge of competing in a tough magic contest later in the game. The thief was my favorite of the three, allowing you to join a thieve's guild ("thou shalt not steal... here") and you could break into homes at night to make some cash. After picking your class you'd assign some points to your attributes and skills, if you wanted to as a thief you had enough points to add the skills of the fighter and m-u and be able to access their parts of the game.
The plot revolved around your character being in an unhappy valley, ruled by the troubled Baron Stefen von Spielberg who not only has his children kidnapped but his court jester is missing too (alas poor Yorick!) all the while the valley is being raided by brigands.
While the game is not very hard it is a ton of fun. There are a lot of quests to do and places to explore with multiple solutions in some cases. The type-in interface is the best it ever was and the Sierra humour is good.

The Bad
The combat is a little sticky. As its a hybrid, the rpg aspects may not appeal to hardcore adventure gamers and those rpg aspects are too light for dedicated rpg players. I happen to like both genres so its perfect for me.

The Bottom Line
Hero's Quest is definatly the jewel in the crown of the early Sierra adventure before their fateful switch to the mouse and VGA graphics. If there is one Sierra game you should play its this one.
DOS · by woods01 (129) · 2001
Trivia
Balancing
Some people preferred to complete the game using this version -- opposed to the VGA remake -- because you could allocate magic points for any character class you chose, guaranteeing a somewhat powerful character for the rest of the series.
Development
From Hero's Quest I Hint Book:
You may be interested to know what goes into a game like Hero's Quest I: So You Want To Be A Hero. Development took over a year, with up to four programmers and four artists, a musician, and a designer-director. Hero's Quest I contains:

111,000 lines of source code (well, so 30,000 of them are blank!)
535,000 bytes of background pictures
1,560,000 bytes of animation
1,980,000 bytes of program code
375,000 characters of text messages
314,000 bytes of music and sound effects and over 200,000 bytes of compiled system code

And you thought this was easy!
Gags
The book that Kaspar, who runs the dry Goods store, is reading, is titled "Quest for Glory: A Hero's Death"
If you're a thief, try picking your nose with the lockpick.. but make sure you save your game first!
Attack the Antwerp with your sword and it will bounce high above your head and out of the area. However, when you leave the screen and enter a new one, a shadow will appear over you from above. Things aren't looking too good! If this Antwerp has it's way then he's gonna flatten you.. so, quickly pull out your dagger\sword and hold it above your head. the Antwerp will land on your blade and explode into lots of little baby Antwerps!
If you right-click on the scorpion walking across the main menu the message: "Congratulations! You have found the first bug in this game." will appear.
Title
Quest For Glory was originally named Hero's Quest, but the name was later changed due to a conflict with Milton Bradley over their board game Hero Quest.
References
Erasmus' house contains many 'relics' from other Sierra games:

A suit of armor bequeathed by Colonel Gulden Dijon (a reference the first Laura Bow game, The Colonel's Bequest).
A little chopper from the Lytton Police Department (a reference to Police Quest).
On the sarcophagus is a hieroglyph starring Rosella from King's Quest 4.
There is also a shield in the room that belonged to one of those "Once and Future" kings (a reference to the famous King Arthur novel "The Once And Future King" by writer T.H. White).

The moose head and 'Maltese Falcon' appear in this game, as they do in each Quest For Glory title (Courtesy of the Sierra prop department).
The Three Stooges make a minor cameo appearance in the game.
A creature called "Antwerp" appears in this game, which is the name of an actual city in Belgium (Europe).
The guildmaster of the Adventurer's Guild, Wolfgang Abentuerer, mentions "two guys from Andromeda" when you ask about the antwerp trophy. It is a reference to the two designers of Space Quest, another Sierra game
If you visit Mirror Lake twice a submarine will emerge on your second visit. This is a plug for the Sierra adventure Codename: ICEMAN. In the VGA remake the submarine is replaced by Delphineus (the dolphin from EcoQuest) and the monster of Loch Ness (a plug for Conquest of the Longbow).
Awards
Amiga Joker

Issue 01/1991 – #2 Best Role-Playing Game in 1990

Computer Gaming World

September 1990 (Issue #74) – Adventure Game of the Year
November 1996 (15th anniversary issue) - #73 in the "150 Best Games of All Time" list
November 1996 (15th anniversary issue) – #15 Most Innovative Computer Game
Information also contributed by Belboz, Boris Stovich; Itay Shahar, Jiguryo, PCGamer77, Roedie, Roger Wilco and Timo Takalo
Contribute
Are you familiar with this game? Help document and preserve this entry in video game history!
Contributors to this Entry
Game added by Eurythmic.
Amiga added by POMAH. Atari ST, PC-98 added by Terok Nor.
Additional contributors: Trixter, Ryan Prendiville, Unicorn Lynx, Jeanne, formercontrib, Cloudschatze, Paulus18950, Patrick Bregger, roy guy.
Game added July 18th, 1999. Last modified August 14th, 2023.