Galaxian
aka: Arcade Archives: Galaxian, Galaxia, Zero Time
Moby ID: 137
Galaxian is a shoot 'em up in which the player is at the bottom of the screen, with an arrangement of aliens at the top. The player moves left and right to aim at an alien, then shoots a bullet up the screen, and the alien it hits is killed. The aliens are classed as Drones, Emissaries, Hornets and Commanders, with those higher up the screen scoring more points when destroyed. At set intervals an enemy will move down the screen towards you, escorting a bomber, which is a moment of high danger. Clear a wave and another is generated.
Spellings
アーケードアーカイブス ギャラクシアン - Nintendo Switch / PlayStation 4 Japanese spelling
ギャラクシアン - Japanese spelling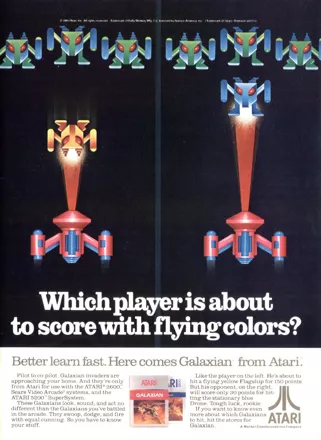 Critics
Average score: 76% (based on 18 ratings)
Players
Average score: 3.6 out of 5 (based on 149 ratings with 5 reviews)
Easy to pick up and play but difficult to master. Quite addicting!

The Good
I'll be quick since there isn't much to talk about. All in all, this is my favourite arcade style game on the NES.
Gameplay: To quickly describe the gameplay, it is a clone of Space Invaders. Both games are easy to pick up but difficult to master. In Galaxian you take control of a spaceship and your objective is to destroy all enemy ships before you can progress to the next level. The game is played for score, meaning that it has no final level, final boss etc. You just play until you loose. Gameplay is simple and the controls feel smooth. I get better every time I play it and we often compete with friends who will make the highest score. It is great for passing some time and for playing with friends.
Graphics: I don't have much to say about graphics since this was in the early days of the NES. What's more, I'll give the designers credit for making the stars in the background glow and twinkle. In many other space games, the background is just a black mass covered with white dots. I also like the way the enemies explode when you shoot them. For 1984 the graphics are nice.
Sound and Music: Music is absent except for the tune that plays in the beginning of the game. Perhaps it is not a bad thing since the game takes place in outer space. The game has a bit of feeling of isolation which is kind of cool. The only sounds that can be heard are the humming of the enemy's engine, the laser blasts and the explosions. The atmosphere makes it perfect for playing in the middle of the night with the lights turned off.
Multiplayer: The game can be played by two people but separately. After a player dies, the other one takes control.

The Bad
I have only minor complaints about this game.
Gameplay: No major complaints.
Graphics: No complaints at all.
Sound and Music: The sound of the enemy swooping down. God, that irritates me!
Multiplayer: If one of the players is a pro, the other one might have to wait for about an hour to play.


The Bottom Line
The game is a great way to spend some free time without going deep in things like plots, character development etc. And it is pretty simple - you just shoot and avoid being shot at. If you are a fan of old-school arcade games then be sure to give this game a go!
NES · by Ivan Obretenov (30) · 2017
An extremely faithful conversion of the original arcade game.

The Good
Most of the Atarisoft conversions of then-classic arcade games were flawless, and Galaxian is no exception. The lazy arc of the enemies as they dive to fire at you is identical to the arcade.

The Bad
CGA's color palette limits the game to four colors, so the game is not as colorful as its arcade parent.
Galaxian does absolutely no speed checking, so you need to slow down your PC (or find an original 4.77MHz 8088) to play it.

The Bottom Line
Like Galaxian? Got an old PC? You know what to do.
PC Booter · by Trixter (8946) · 1999
Much better than its PC counterpart

The Good
I first heard about Galaxian when I had my old Commodore 64. One morning I got up and found it sitting right next to me while I was eating my breakfast. I loaded it up before I went to school and had three games before I had to catch the school bus.
The object of the game is simple: go through repetitive wave after repetitive wave of intense action by sliding your ship left or right and shoot any Galaxian (the invader) that gets in the line of fire, as they try to dive-bomb and shoot at you with their lasers, and get the highest score possible. The Galaxians consists of drones, emissiaries, hornets, and commanders. The wave ends when all Galaxians are shot. Sadly, I can't tell which is which, but since each Galaxian is color-coded, I'll identify each galaxian by their color. The commander is the exception to this rule. They are easy identifiable due to their appearance, a shield. For the rest, there are three rows of green Galaxians and these are easy to kill, and so are the red ones. Each Galaxian has their own attack pattern. For example, the green ones dive-bomb in a straight light, while the blue ones dive-bomb, and then go in a zig-zag pattern, making them harder to kill. Strategy: try to shoot the blue ones first before shooting the commanders, and you could not have this problem.
What's really hard is in situations where there are more than two Galaxians dive-bombing and shooting at you. The number of points added to your score will depend on the type of Galaxian you kill. For instance, you get 30 points for shooting green, 40 for shooting blue, 50 for shooting red, and 60 for shooting a commander. When they dive-bomb, you get 60 points for shooting a green Galaxian, 80 for shooting blue, and 100 for shooting red. The points for the commander vary and go 150, 200, 300, and 800 points.
I have played the NES version of Galaxian, which is much better than the DOS version. It comes close to the original arcade game, with the number of colors used (which makes the Galaxians easily identifiable), the sounds, and the scrolling star background. I believe that the Atari console version of the game has variations, but I can't tell you what they are, as I don't have this version.

The Bad
Repetitive waves, and also no plot. But this game was made in the early 80's, a time when simple arcade games exist with no plots.

The Bottom Line
If you have played Space Invaders, got bored with it, and want to try something new, then I'm sure this game will tickle you fancy. But don't get destroyed while shooting, as you have three lives to start off with.
With the various remakes that were based on arcade games, including Pac-Man, Galaga, and Space Invaders, I have yet to see a remake of Galaxian. If I do, I would expect the following features:
Dazzling SVGA graphics and 3-D sound
Two players can play simultaneously, through serial link, or TCP/IP
The option of playing the original arcade game, accessed by doing something gamers won't think of, such as entering a cheat or getting to No. 1 in the highscore ranks in the one game
Waves will be mission-based
The ability to save and load games
Rating: ***
NES · by Katakis | カタキス (43051) · 2004
Trivia
1001 Video Games
The Arcade version of Galaxian appears in the book 1001 Video Games You Must Play Before You Die by General Editor Tony Mott.
Development
Atari 2600 programmer Mark Ackerman, at the time working in Atari's "think-tank" GCC, was granted a patent for his technique invented for the 2600 port of Galaxian, allowing eight sprites to be displayed in one row.
Extras
Atari's 2600 release of Galaxian came with the comic book Atari Force #5. Here is that comic at AtariAge.com
Graphics
Galaxian (and its clone, Cosmic Crusader) get away with relatively high framerates on the original 4.77MHz PC because they don't use the entire screen for a playfield; the right fifth of the screen (64 pixels) is unused. Another side-effect of shortening the playfield to a width of 256 pixels is the optimization of game calculations, stemming from the fact that horizontal coordinates fit in a single byte instead of two.
Re-release
Was later re-released under the Thunder Mountain label. What makes this trivia? Usually only Mindscape games were released under Thunder Mountain... Galaxian was originally licensed to Atari.
Awards
Retro Gamer

October 2004 (Issue #9) – #49 Best Game Of All Time (Readers' Vote)
Information also contributed by Игги Друге, LepricahnsGold and FatherJack
Contribute
Are you familiar with this game? Help document and preserve this entry in video game history!
Contributors to this Entry
Game added by Trixter.
Commodore 64, NES, Atari 2600, ColecoVision added by PCGamer77. Wii added by Michael Cassidy. Sharp X1, FM-7 added by Infernos. PC-8000 added by OmegaPC777. Atari 5200 added by RKL. Palm OS, Sharp Zaurus added by Kabushi. MSX added by Martin Smith. Arcade added by Pseudo_Intellectual. PC-6001 added by vermilion1. PC-88 added by Terok Nor. Atari 8-bit, ZX Spectrum, Apple II, VIC-20 added by Servo. PlayStation 4, Nintendo Switch added by BOIADEIRO ERRANTE.
Additional contributors: vedder, Patrick Bregger, Grandy02, FatherJack, ZeTomes, Chamemo, BOIADEIRO ERRANTE.
Game added May 26th, 1999. Last modified August 17th, 2023.