Galaxian
aka: Arcade Archives: Galaxian, Galaxia, Zero Time
Galaxian is a shoot 'em up in which the player is at the bottom of the screen, with an arrangement of aliens at the top. The player moves left and right to aim at an alien, then shoots a bullet up the screen, and the alien it hits is killed. The aliens are classed as Drones, Emissaries, Hornets and Commanders, with those higher up the screen scoring more points when destroyed. At set intervals an enemy will move down the screen towards you, escorting a bomber, which is a moment of high danger. Clear a wave and another is generated.
Spellings
アーケードアーカイブス ギャラクシアン - Nintendo Switch / PlayStation 4 Japanese spelling
ギャラクシアン - Japanese spelling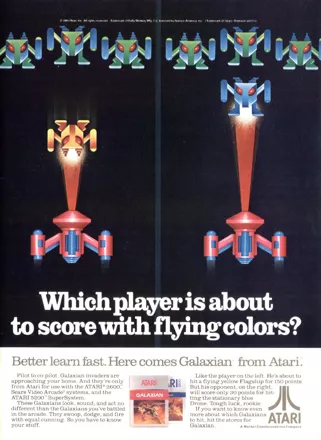 Trivia
1001 Video Games
The Arcade version of Galaxian appears in the book 1001 Video Games You Must Play Before You Die by General Editor Tony Mott.
Development
Atari 2600 programmer Mark Ackerman, at the time working in Atari's "think-tank" GCC, was granted a patent for his technique invented for the 2600 port of Galaxian, allowing eight sprites to be displayed in one row.
Extras
Atari's 2600 release of Galaxian came with the comic book Atari Force #5. Here is that comic at AtariAge.com
Graphics
Galaxian (and its clone, Cosmic Crusader) get away with relatively high framerates on the original 4.77MHz PC because they don't use the entire screen for a playfield; the right fifth of the screen (64 pixels) is unused. Another side-effect of shortening the playfield to a width of 256 pixels is the optimization of game calculations, stemming from the fact that horizontal coordinates fit in a single byte instead of two.
Re-release
Was later re-released under the Thunder Mountain label. What makes this trivia? Usually only Mindscape games were released under Thunder Mountain... Galaxian was originally licensed to Atari.
Awards
Retro Gamer

October 2004 (Issue #9) – #49 Best Game Of All Time (Readers' Vote)
Information also contributed by Игги Друге, LepricahnsGold and FatherJack
Contribute
Know about this game? Add your expertise to help preserve this entry in video game history!
Contributors to this Entry
Game added by Trixter.
ColecoVision, Atari 2600, NES, Commodore 64 added by PCGamer77. Wii added by Michael Cassidy. FM-7, Sharp X1 added by Infernos. Atari 5200 added by RKL. Palm OS, Sharp Zaurus added by Kabushi. MSX added by Martin Smith. Arcade added by Pseudo_Intellectual. PC-6001 added by vermilion1. PC-88 added by Terok Nor. VIC-20, Atari 8-bit, ZX Spectrum, Apple II added by Servo. Nintendo Switch, PlayStation 4 added by BOIADEIRO ERRANTE.
Additional contributors: Nélio, vedder, Patrick Bregger, Grandy02, FatherJack, ZeTomes, Chamemo, BOIADEIRO ERRANTE.
Last modified February 22nd, 2023.