As the game begins, the player character falls through a trapdoor and ends up inside an evil castle with only one way to get out of it - find all the pieces of the great ACG key that unlocks the main door.
Atic Atac is an action game with adventure elements, mixing arcade gameplay with exploration of a large castle and light puzzle-solving. The player can choose to control either a Wizard, a Knight, or a Serf. Each character has access to a different secret passage, which means that the player will be navigating different rooms depending on the choice of character. Characters also possess unique skills: for example, the Serf can gain momentum when running, allowing him to traverse greater distances in less time.
Enemies appear in each room and would randomly attack the protagonist. The player can choose to collide with them, which destroys the enemies but also drains health from the main character. Some enemies cannot be killed by conventional means and must be either avoided or dealt with by using special items. Poisonous mushrooms will also damage the hero, and bosses will drain his health as long as he maintains close contact.
The player character's life meter gets gradually depleted. Health can be restored by consuming food scattered around the castle, but the countdown cannot be stopped. In addition, doors would sometimes close, trapping the hero in a room. Keys must be collected to open many of the castle's doors.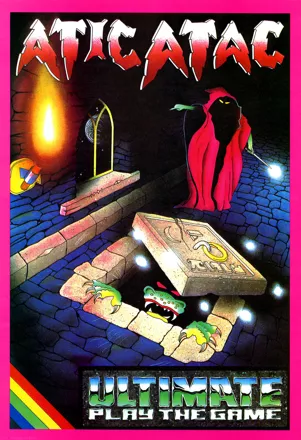 Credits (ZX Spectrum version)
4 People
| | |
| --- | --- |
| Designed by | |
| Programming by | |
| Graphics by | |
| Packaging art by | |
Trivia
Magazine map
Another innovation resulting from the game was that it was the first game to have a map published by a magazine (Crash!). This was contributed by a reader, and unusually as a result of a competition.
Misspelling
Some copies of the game exist where the message on completing the game is spelled as "CONGRATULATIONT" - apparently due to an error in the typing of the code, using 212 instead of 211 in an important place.
Awards
ACE

February 1991 (issue #41) - Included in the list Greatest Games of all Time, section Arcade Adventures (editorial staff choice)

Retro Gamer

September 2004 (Issue #8) – #51 Best Game Of All Time (Readers' Vote)
Related Sites +
Retrospec
has a Windows Atic Atac remake.
Wikipedia
free Encyclopedia entry
World of Spectrum
release information; additional material; player reviews; magazine references; magazine adverts
Contribute
Know about this game? Add your expertise to help preserve this entry in video game history!