Darius
aka: Arcade Archives: Darius, Darius Plus, Darius Wide, Darius+, Sagaia, Super Darius
Darius was Taito's effort to compete in the arcades against the likes of R-Type and Gradius. Technically impressive, it featured three screens depicting the largest playfield seen in a game so far (the same system was employed for Ninja Warriors), with the player sitting atop a big set of loudspeakers. Visually and audibly, it was a league above Irem's and Konami's offerings.
When Taito (and others) ported the game to home machines, they were forced to shrink the playfield to fit in one single screen, and re-dubbed it Darius Plus.
The plot of Darius involves the two heroes Proco Jr. and Tiat Young fighting the menaces posed by galactic fish and other sea animals again their homeworld.
What sets Darius apart from other shoot'em-ups of the time is its way of letting the player choose his path with a certain amount of freedom. At the end of each area (level), you are able to choose between one of two worlds which the area branches into. This renders a higher replay value, since there are many paths to reach the end of the game by. Apart from this, the gameplay is on the simplistic side, both due to unimaginative attack waves and little interaction with the surroundings, but mainly due to the very basic powerup system, which is nowhere near the complexity of the aforementioned R-Type's and Gradius'.
Spellings
アーケードアーカイブス ダライアス - Japanese PS4 / Switch spelling
ダライアス - Japanese spelling
ダライアス・プラス - PC Engine Japanese spelling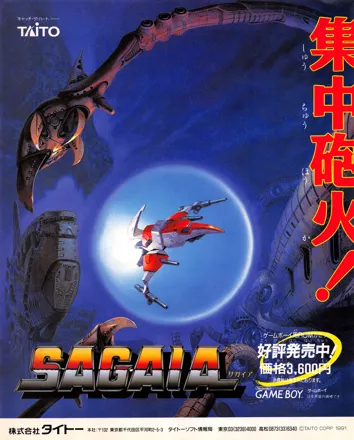 Credits (Arcade version)
42 People (33 developers, 9 thanks) · View all
Directed and Produced by
Game Designed by
Programed by
Art Designed by
Mechanical Engineer
Cabinet Design
Hardware Designed by
[ full credits ]
Trivia
1001 Video Games
The Arcade version of Darius appears in the book 1001 Video Games You Must Play Before You Die by General Editor Tony Mott.
References to the game
Darius references can be found in several other Taito games. Rainbow Islands has a secret Darius level with a cutesy rendition of the soundtrack, and tunes from the game are also used in the arcade game Metro Soldier Isaac II.
Cancelled C64 port
The Edge announced a C64 version of the game and there even was a test of in ACE 1990/2, which is unlike was really about the C64 version of the game. Just because after payment troubles at the Edge several programmers left and the graphic developer Tahir Rashid only ever finished the graphics for level 1 and the development for that version was stopped (Source: gamesthatwerent.com).
Contribute
Know about this game? Add your expertise to help preserve this entry in video game history!
Contributors to this Entry
Game added by Игги Друге.
Arcade added by f1reball. PlayStation 4, Nintendo Switch added by Rik Hideto. DoJa, BREW, J2ME added by Kabushi. Wii added by gamewarrior. SuperGrafx added by JudgeDeadd.
Additional contributors: MAT, Kabushi, Patrick Bregger, Rik Hideto, Jo ST, FatherJack, FAM.
Game added April 19th, 2006. Last modified February 22nd, 2023.