Dragon Ball Z: Budokai Tenkaichi 2
aka: Dragon Ball Z: Sparking! NEO
Tenkaichi 2 is a fighting game with more than 120 playable characters, the biggest amount ever featured in a Dragon Ball game. The main Dragon Adventure mode follows an epic story mode that covers the first Dragon Ball Z saga (Saiyan Saga) right up to the last Dragon Ball GT saga (Dragon Saga), including all of the major battles, making it one of the most comprehensive Dragon Ball Z games.
The same battle format from the predecessor is taken, but extended with improved mechanics, including the return of the "Planet Freedom" feature (last seen in Dragon Ball Z: Budokai 3). There are more combat combos and in-battle transformations, all topped of with a featured encyclopedia, which covers all the most important aspects of the Dragon Ball universe.
All the characters from the previous version are present, with some new ones (there are more in the Wii version), and up to ten characters can participate in a single battle, with a tag system. The locations include those of the previous game, with some additional ones.
Spellings
ドラゴンボールZ スパーキング! ネオ - Japanese spelling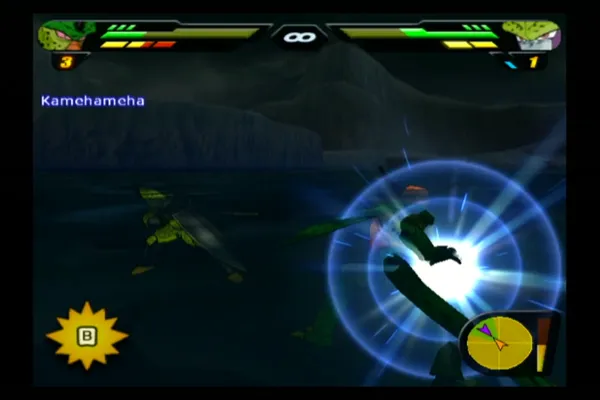 Credits (PlayStation 2 version)
238 People (234 developers, 4 thanks) · View all
Cooler™
Guldo™, Cui™, Babidi™
Bojack™, Syn Shenron™
Captain Ginyu™, Lord Slug™
Bulla™, Ghost™
Dodoria ™
Turles™
Hercule ™
Burter™, Gogeta™, Grandpa Gohan™, Jeice™, Karin™, Majin Vegeta™, Piccolo™, Recoome™, Salza™, Omega Shenron™, Vegito™, Vegeta™, Yamcha™, Zarbon™, Porunga™, Shenron ®
Android 13™, Android 17 ™, Garlic Jr. ™, Super 17™
Zangya™
Chi-Chi™
Cell ®
Frieza Soldier 1™
Pan™
Trunks ®, World Tournament Announcer
Tapion™
Android 16™
Real Announcer™
Janemba™
Tien™, Saibamen™
Majin Buu ®, Kid Buu™
Cell Jr ®, Majin Buu® (Gotenks Absorbed), Majin Buu® (Ultimate Gohan Absorbed), Raditz™, Super Buu™
Goten ™, Gotenks ™, Videl™
Dr. Gero ™, Kibito Kai™, Supreme Kai™, Tao™
[ full credits ]
Trivia
Awards
GameSpy

2006 – Special "Holy Crap, That's Fan Service" Award (Wii)
Contribute
Know about this game? Add your expertise to help preserve this entry in video game history!