Turtles
aka: 600, Tartarugas!, Tortues, Turpin, Turtles!
Description
Turtles, also known as Turpin, puts you into the role of the maternalistic turtle who tries to save the kidturtles from a bunch of bad bugs (or, in some versions, bad cars). It takes place in a Pacman-esque labyrinth, with turtle boxes in the centre and corners of the screen. Run into a box to release the turtle kid inside. Opening a box makes a little house show up, and you must go with the kidturtle to the house before you can release the next one. All the while, you must avoid the bugs/cars running around the maze. If they get too close, you can release a mine which will stun them temporarily. When you run out of mines, you must resupply by passing over a star in the centre of the screen. Beware, though, because the simpleminded bugs become smarter as time passes; this is symbolised by their changing colours. On later levels, those sneaky beetles can also come out of the boxes supposed to hold kidturtles. Watch out!
Each level is a floor in a house, and between levels you can see the turtle climbing to the next floor until it reaches the top. However, in the Philips versions, the kidturtles are replaced by people whom the turtle must save from ships, while the bugs are turned into turtle-eating fish.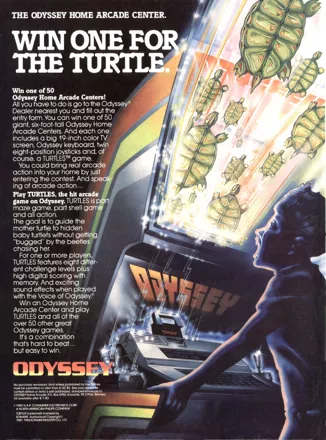 Credits (Odyssey 2 version)
Critics
Average score: 91% (based on 3 ratings)
Players
Average score: 3.8 out of 5 (based on 18 ratings with 1 reviews)
Great Pacman-like game with more thinking and strategy

The Good
It is somewhat similar to Pacman. You open the question marks and either discover a baby turtle that needs rescue or an enemy beetle. (I didn't know turtles and beetles were enemies...) As you carry the baby turtle to a safe house, the beetles try to catch you. You can drop "bug bombs" to stop them. It's a simple game but surprisingly fun, and certainly there is a lot more thought involved than most maze games.

The Bad
Not much to complain about. The graphics are a bit plain, but serviceable. There is a nice opening screen with a tune that plays. Controls are good. Over all just a great game for the O2. It is not that common, but you can find a cartridge on eBay for maybe $20 or so.

The Bottom Line
A thinking man's Pacman.
Odyssey 2 · by Bruce Clarke (60) · 2014
Contribute
Know about this game? Add your expertise to help preserve this entry in video game history!
Contributors to this Entry
Game added by Игги Друге.
Casio PV-1000 added by Rola. Adventure Vision, Dedicated handheld added by OmegaPC777. Arcadia 2001 added by Kabushi. Videopac+ G7400 added by jean-louis.
Game added July 4th, 2007. Last modified February 22nd, 2023.