(prices updated 9/30 7:02 PM )
While on vacation, Tails and Sonic come across a recruiting advertisement for the World Grand Prix race. Sonic is not interested at first, but once he notices that Dr. Robotnik will participate he decides to enter. Robotnik is only interested in the race because he's learned the location of the Chaos Emeralds and now he'll get a chance to beat Sonic while he gets them. Knuckles finds out that Sonic will participate, so he joins him. Amy overhears Robotnik's plan, so she will also be racing to get the Chaos Emeralds.
There are many modes of gameplay in Sonic R:
Grand Prix: You race against the rest of the characters on each of the circuits, and get a chance to race the level's boss to unlock some of the extra playable characters.
Time Attack: Run on one of the tracks as fast as you can, get 5 balloons or tag 4 characters.
Multi Player: 4 players on a split-screen or over a network. You can race against up to three players or challenge them on a balloon finding game. The screen can be divided horizontally or vertically for 2 player games.
Spellings
ソニックR - Japanese spelling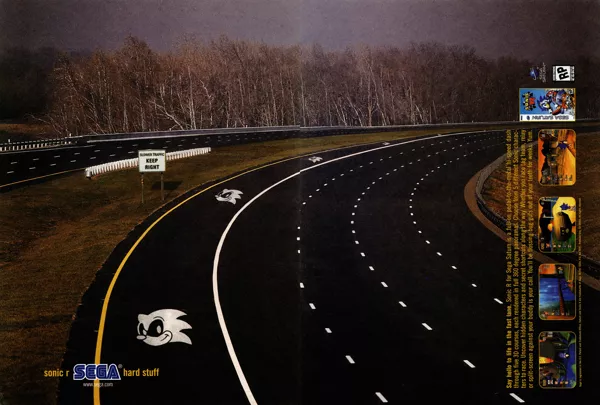 Credits (Windows version)
8 People (7 developers, 1 thanks)
| | |
| --- | --- |
| Product Director | |
| Producer | |
| Director | |
| Supervisor | |
| Director | |
| European Marketing Manager | |
| Assistant European Marketing Manager | |
| Special Thanks to | |
Critics
Average score: 69% (based on 39 ratings)
Players
Average score: 3.5 out of 5 (based on 51 ratings with 2 reviews)
Sonic racing for completists only.

The Good
Nice-looking graphics, and the balloon-collecting levels are quite fun for a while.

The Bad
This is a complete waste of time. The races are tedious and frustrating. The characters take an eternity just to change direction, and there is a lack of variety in them. The characters themselves look blocky and ugly. Basically this is just a total cash-in, designed to keep the Sonic name alive through the process of pure existence. I'm sure there are hardcore Sonic fans and easily-pleased younger players who'll gain something from this, but it's an expensive way of satisfying your craving for Sonic games, and I'm certain most Sonic fans would prefer one of the kind of platform action games which made the character famous. If you want cute racing games then Crash Team Racing on the PS1 and Crash Nitro Kart and Crash Tag Team Racing on the PS2 are much better.

The Bottom Line
Sonic and friends are having races through several areas of their local habitat, including the tropical island, big city, remains of a lost civilization etc. Also in the race is Dr Robotnik, who is planning to win the races, collect all the crystals and take over everything. Options in the game include a race against the clock and the task of collecting balloons.
SEGA Saturn · by Gary Smith (13) · 2006
The Good
This is probably my favorite Sonic game of all time and one of my favorite games of all time. This game is just amazing. I used to play this when I was little and I lost it and I'm still looking. I hope one day I find it. Anyway, this game is just so cool. The graphics are awesome. The gameplay is awesome. The levels are even freakin awesome. I think the levels are so cool because they look like they could actually be cities in some fantasy land if they had buildings and stuff. It's not specifically designed to be a racetrack. It's like, a world with paths on it that become racetracks. The sound is this game is also awesome. And the fun factor, don't even get me started on that... Let's just say it rocks out loud! Rockin!

The Bad
To tell you the truth, there was nothing in this game I didn't like. Hard to believe? I know. Let's see if I can find some things other people might not like though... I guess the two play controls are sort of weird.... and that's about it. Of course they probably only said they were weird because I kept beating them...

The Bottom Line
Sonic R is a truly amazing game. This one should go down in history. I'm serious. It's insane how awesome it is. Everything's perfect. I never once even had a glitch or had my computer freeze or whatever while playing this game. I give this game a 15 out of 10 and fifty thumbs up!
Windows · by VortexS130 (73) · 2005
Trivia
There's more than one way to complete each track. Look for the shortcuts!
Contribute
Are you familiar with this game? Help document and preserve this entry in video game history!