Wargasm
aka: Wargasm: Der unbekannte Feind, Wargasm: Nel futuro, tutte le guere saranno combattute così, Wargasm: No futuro, todas as guerras serão assim...
In 2065, the world's military forces were transferred to the World Wide War Web in an effort to eliminate bloodshed. All the countries, whether they be a superpower or in the Third World, were justly represented. Wars were fought through this system, and the winner would take the loser's electronic infrastructure. However, the system was flawed. It was prone to be hacked. In this state of "wargasm," the world has fallen into a state of corruption. It is your duty to bring order back to the world in this 3D RTS. One thing, beyond the basic RTS play, is the ability to possess any of your units and control them directly.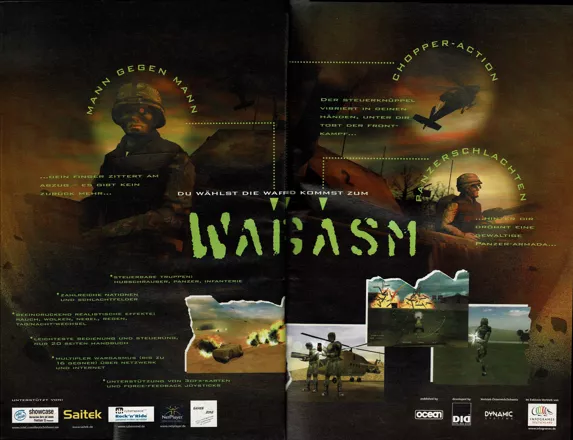 Credits (Windows version)
84 People (67 developers, 17 thanks) · View all
Game Design
Project Manager
Lead Programmer
Senior Programmer
AI Programmer
Audio Programming
Driving Model
Lead Artist
Senior Artist
Artists
GUI Design and Construction
Additional Artists
3Dream Engine and Additional Effects
[ full credits ]
Critics
Average score: 77% (based on 22 ratings)
Players
Average score: 3.2 out of 5 (based on 11 ratings with 0 reviews)
Be the first to review this game!
Trivia
Soundtrack
The soundtrack features pieces of classical music, including Beethoven's Symphony No. 9 in D minor Op. 125 "Choral" (commonly known as Ode to Joy), Symphony No. 7 in A major Op. 92, Richard Wagner's Siegfried's Funeral March from Twilight of the Gods, and Gustav Mahler's Symphony No. 3.
Sadly, they're not credited in the manual.
Contribute
Are you familiar with this game? Help document and preserve this entry in video game history!