Into the Eagle's Nest
aka: "Eagles Nest", Into the Eagles Nest
Moby ID: 294
Pandora's first game combines the Gauntlet style with the World War 2 setting, and specifically the Eagle's Nest building which is being used by a commander as his HQ. Three Allied soldiers have been captured, and you must infiltrate the facilities, rescue your brave comrades, destroy the building, and salvage as much of the stolen art treasures as possible.
There are eight levels to explore, each with a specific mission objective. Some of the paintings are loose, others are in crates which must first be shot. Explosives must be collected, not shot. With limited ammunition, guards everywhere, keys at a premium, and lots of strategic hiding points, an all-guns-blazing approach is less successful than a planned, measured one.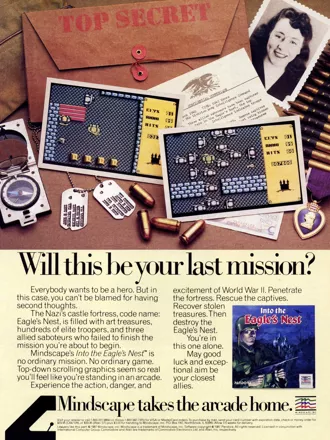 Credits (Apple II version)
| | |
| --- | --- |
| Written by | |
| Graphics by | |
| Apple Version by | |
Critics
Average score: 78% (based on 18 ratings)
Players
Average score: 2.9 out of 5 (based on 33 ratings with 1 reviews)
I missed the hours I spent playing "Into The Eagle's Nest"...

The Good
I guess "Eagle's Nest" was one of the first computer games I had ever played. It was a lovely memory and I still miss the game very, very much. I even can't help myself thinking about our nostalgia everytime I look at its screenshots section here. Unfortunately there are only three screenshots and you see them in more than 4 color in EGA resolution...
The one I played was the CGA version (maybe we played it in CGA because of our old monochrome pal, I don't know really) and I guess I would choose to go on playing at that resolution again if I had the chance to play the game. Never mind, why I am telling you all this stuff anyway? Doesn't it seem absurd?
Did you know that because of its top-down gameplay (and maybe also because of their resemblance of a "cute" car!) I always assumed the soldiers in the game as "cute" cars!! What a story, ha? Ha ha?
Well for me, before ID's masterpiece "Wolfenstein 3D", there was only "Into The Eagle's Nest". I played it lots of times until I found myself totally lost in one of its levels as I exactly would lose myself again in Raven's Cyclones later!!

The Bad
If you know how to find your way through the levels, I guess you will have no problem with the game.

The Bottom Line
I wish I could play it again with the same excitement... But that was in the past, and I guess it should stay there forever.
DOS · by Accatone (5191) · 2000
Trivia
BPjS / BPjM index
Banned in Germany (all systems) since 30.07.1988
Awards
ACE

October 1988 (issue #13) - Included in the Top-100 list of 1987/1988 (editorial staff selection)

Commodore Format

March 1991 (Issue 6) - listed in the A to Z of Classic Games article (Great)
Contribute
Are you familiar with this game? Help document and preserve this entry in video game history!
Contributors to this Entry
Game added by Donny K..
Commodore 64 added by Quapil. Amstrad CPC, ZX Spectrum, Atari ST, Amiga added by Martin Smith. Apple II added by Garcia. Atari 8-bit added by Bob Montgomery.
Additional contributors: 80, Martin Smith, formercontrib, Arjon van Dam, Karsa Orlong, Jo ST, FatherJack.
Game added September 26th, 1999. Last modified August 14th, 2023.