Return Fire is the spiritual successor to Fire Power and it fits in both the strategy and action genres. You can take control of one of 4 vehicles, a jeep, helicopter, tank, and a missile launching vehicle (but actually called The Armoured Support Vehicle (ASV).
There are two ways to win, the easier one would be to capture the enemy's flag by bringing it to your bunker with the frail Jeep. This is the main objective. The other way to win is to destroy your enemy, a secondary objective.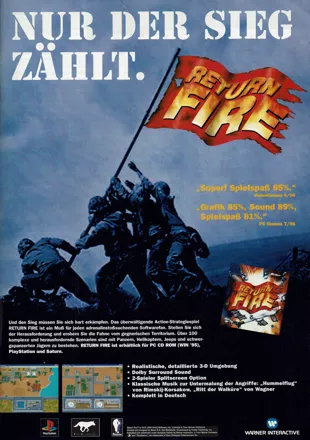 Credits (3DO version)
17 People (13 developers, 4 thanks)
Trivia
1001 Video Games
The 3DO version of Return Fire appears in the book 1001 Video Games You Must Play Before You Die by General Editor Tony Mott.
Cancelled Saturn version
Following the release of the game on the 3DO and Playstation systems, a version was planned for release on the Sega Saturn. Developer Prolific ported the code over and in fact even completed the game. However at that time, a version of the Sega Saturn system named the "Hi-Saturn" and manufactured by Hitachi was released. The system wasn't always compatible with existing games and so Prolific was asked to make sure the upcoming Return Fire would be compatible with this variant of the system. While making the necessary changes for the Hi-Saturn, the Sega Saturn's future as a profitable platform came under doubt and Return Fire, already finished, was canceled.
In 2003, SEGA-Saturn.net began to do research on unreleased games and contacted Prolific about the title. They were sent a fully functional Sega Saturn CD version of the game to test.
More information can be found at http://www.sega-saturn.net/returnfire.htm
Music
The game features a classic music score, including Richard Wagner's Ride of the Valkyries when using the helicopter (think Apocalypse Now), In the Hall of the Mountain King by Grieg with the ASV and Mars - The Bringer of War by Gustav Holst for the tank. The jeep features two songs: Flight of the Bumblebee by Nikolai Rimsky-Korsakov and the popular William Tell Overture by Gioacchino Rossini when a flag is being carried.
The introduction is a piece from Verdi's Dies Irae and the player is greeted by a portion of Handel's Hallelujah chorus from his Messiah oratorio when completes a level.
Pause Screen
The pause screen is a US Army Recruiting poster/ad.
References in movies
This game makes a cameo appearance in the Pauly Shore movie In the Army Now.
Awards
Electronic Gaming Monthly

February 1995 (Issue 67) - Game of the Month (3DO version)
Information also contributed by Jeff Koerner, Luis Silva, and WildKard.
Contribute
Know about this game? Add your expertise to help preserve this entry in video game history!