Operation Flashpoint: Cold War Crisis
aka: CwC, Flash Point 1985: Status Quo, OFP, Poseidon: Operation Apocalypse
Moby ID: 3559
Official Add-on Unofficial Add-on
Operation Flashpoint: Cold War Crisis is the first game in two separate and independent game franchises: the Operation Flashpoint series and the ARMA series. The game has been published both under its original name at first, and after Codemasters took over the rights from Bohemia Studios it was changed to the title ARMA: Cold War Assault. Notwithstanding the name change, the game is the same.
Operation Flashpoint is designed as a realistic simulation of the United States of America und the Soviet Union armies of the mid-1980s. The game takes place on large islands where you have to battle an enemy force with a group of teammates. You can use a large amount of different weapons, including the AK-47, the M-16, hand grenades, a LAW, RPG and more.
Unusual about this game was the possibility to drive a those days huge variety of vehicles, such as off-road vehicles (UAZ-469, M151 Jeep, HMMWV), helicopters (AH-64 Apache, UH-60 Black Hawk, CH-47D Chinook, AH-1 Cobra, OH-58 Kiowa, Mi-17, Mi-24), airplanes (A-10 Thunderbolt II, Su-25 Frogfoot), anti-air tanks (M163 Vulcan, Shilka),tanks (M1A1 Abrams, M2A2 Bradley, M60 Patton, T-55, T-72, T-80) as well as (armored) personnel carriers (M113, M939 Truck, BRDM, BMP-1, BMP-2, URAL), even a mobile LRBM carrier (Scud launcher) and civilian vehicles (i.e. tractor, car, Sachsenwerke Trabant) and various support vehicles (variants of Truck5t and Ural). You can take place on the driver's chair, or on the back with one of your (AI) teammates driving.
Given this variety, the player will be placed in various roles. Once playing as regular soldier, next time as a tank-driver, then a pilot or special forces.
The game also supports internet multiplayer, wherein 2 teams have to battle each other in a large battlefield, again with the use of the vehicles, where you can annoy some real players carpooling in your helicopter by colliding with the earth.
When playing as normal soldier the game acts very realistic. You can't shoot properly when running, and while crawling you can't shoot at all. Also you walk on a very realistic speed which means it takes a lot of time to cross the landscape. As there are often no fixed routes, the player can find his own way to succeed the mission in different ways.
The landscape contains trees, towns, seas, roads and army camps, with everything on a very large scale. Weather can change the atmosphere from clear sky to rainy days or nights. In single player you can also experience cut scenes rendered in the 3d engine. The game also contains speech and filmic music within its campaign, that is set in fictional conflict of NATO forces represented by the United States of America as the only NATO presence in the sector and a renegade russian general as aggressor who tries to take over control of three islands to unleash a global conflict.
Spellings
Операция Flashpoint: Холодная война - Russian spelling
闪点行动:冷战危机 - Simplified Chinese spelling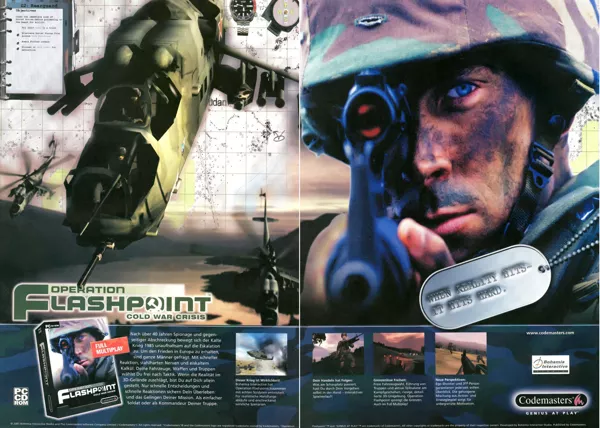 Credits (Windows version)
27 People · View all
Project Lead
Programming
Graphics / Artwork
Design
Landscape Editing
Motion Capture Performance
Additional Tools Programming
Sound Effects
Original Music Score
Additional Music (Seventh)
[ full credits ]
Critics
Average score: 88% (based on 35 ratings)
Players
Average score: 3.9 out of 5 (based on 81 ratings with 5 reviews)
It looks like that you are the middle of the battlefield

The Good
What I like about the game is the much options that you have in playing this game, like driving vehicles and fly plane's and helicopters. I liked it immediately because I love the army and this ARMY, 100%. It looks like that you are the middle of the battlefield. That makes this game special.

The Bad
What I don't like about the game is some graphics. They aren't the best I ever seen. And locating enemy troops is very difficult, because you can't see them from a range of 400 á 500 meter, but they can see you.

The Bottom Line
I describe it as one of the best war simulations the software industry ever seen. The gameplay is good, the AI is smart and it just look like you are in the middle of the battle
Windows · by Timber Wolf (3) · 2002
The Good
Operation Flashpoint is a very realistic soldier simulator. You can get into any vehicle, aircraft or boat as a pilot, gunner or commander. The maps are huge and everything in this game is free form. You can complete a mission almost any way you see fit. Combat is intense, you can hear bullets zipping by and knowing that one hit will kill you really makes you want to keep your head down. The weaponry and vehicles are decent in number and the story is intriguing. But where Operation Flashpoint really shines is the add on capability. From numerous websites, you can find weapons, vehicles, soldiers, objects, animations you name it, all fan made, all available for download. With the mission creator you can create virtually any combat scenario you can think of. You want to send in some covert ops to an enemy base in the middle of the night to blow up their weapons stockpile? You can. You want to have a 100 vs. 100 battle? You can. You want to be a Starship Trooper with a nuke launcher and take out hordes of bugs with a push of a button? You can. You want to be a Colonial Marine fighting Predators with your Pulse Rifle? Believe it or not, you can. The replay value in this game is virtually unlimited. There are graphic updates, custom animations, full game mods, full game conversions, mini-mods... the possibilities are endless! Sound complicated? It's really not. You can be playing within seconds if you really wanted to, either by single missions that come with the game or missions you downloaded for the web. You can create scenarios as complicated or as simple as you want. The AI is good enough to where you won't be blowing away baddies left and right. They won't flank you and they rarely flush you out, but they certainly don't just stand there and fire. The graphics for the time are slightly above average, however there are upgrades that can really make blowing up a tank or shooting down a helicopter one of the prettiest things you've done.

The Bad
The voice acting and squad commands sound horrible. You really need to learn to phase them out, otherwise they'll drive you to and past the brink. The physics engine is also pretty bad. Walking inside a building you can easily get stuck, go through walls or suddenly end up outside, exposing yourself to enemy fire. Additionally, buildings don't blow up or collapse, they simply... I guess for lack of a better word "disfigure". The polygons stretch and skew making a twisted cacophony of concrete and metal. Certain vehicles do this as well, but at they usually are at least scorched and/or on fire. There is no animation for dying from an explosion, so you'll simply be "lying down" while flying through the air. Vehicles handle kind of strangely but you get used to it. What's harder, though, is piloting airplanes. Helicopters aren't so bad but airplanes can really be a pain. You have to slow down sometimes ridiculous amounts to make a turn and if you start going to fast your maneuverability will suffer so bad crashing becomes a fast reality. Turning in and of itself is a hard task to accomplish. Enemies can be hard to spot, you really have to be paying attention. Now whether this is realistic or just done wrong by the developers is up for debate, never having the unfortunate duty of being in combat, I cannot say. Chances are they'll spot you first, and chances are their fire will be much more accurate than yours. Aiming is not easy in this game, you have a floating crosshair and firing while moving is out of the question (as infantry anyways). Some might like this, some might not but that's the main place where Operation Flashpoint will keep kicking you in the teeth, reminding you this a realistic soldier sim, not some wussy, tree hugging, hemp smoking arcade FPS. The campaign gets difficult at points, so difficult you just want to smash your monitor with your keyboard. There are times you'll be jogging along, minding your own business when one bullet nails you in the side of the head, no warning. Harsh, but there's that damned realism again. You can only save once during a mission, so when you die (which can be often) you'll have to go back to that point or to the last "checkpoint". So theoretically speaking, you could spend days playing just to get your man across a field. On the flip side, though, when you do complete the campaign you feel a real sense of accomplishment.

The Bottom Line
Operation Flashpoint has more freedom than any game I've played up to that point and ever since. It can double as a WWII simulator, a WWI simulator, a zombie slaying game, a science fiction combat sim... your mind is the limit. Being a soldier sim rather than a FPS won't appeal to everyone however. There are a lot of controls to know and subsequently memorize and combat is a very different animal all together. That being said, if you have patience, Operation Flashpoint can be as intense, if not more intense, than any FPS out there. Couple that with replay value that keeps you playing six years later and more than ever, you have a legend in its own time. Playing Operation Flashpoint is definitely an experience you won't forget for a long, long time.
Windows · by Viktor Kovacs (13) · 2007
The Good
The first thing that struck me was how detailed and HUGE the environments are. The campaign maps are absolutely immense. Being able to control any vehicle in the game was also quite ambitious. I would find myself hijacking a jeep or helicopter and just go all over the map and find little towns and just enjoy the scenery. The game is also very free in the sense you can play the same missions over and over and try different tactics and see completely different results.

The Bad
The vehicle control (particularly the helicopters) is awkward and doesn't really work well with the mouse/keyboard combo. You do have the option of using joysticks, but the time to set up a flightstick for flying and a mouse/keyboard for ground fighting was just too difficult to get right. The radio chatter really is annoying but necessary, so there was really no escaping it. The Multiplayer which had the potential to replace all tactical team-based online games for me just fell completely flat. High latency and a bad "join-game" interface really made for a headache.

The Bottom Line
If you have patience and are into a slower paced but all-encompassing "modern day" shooter, you should check this out. It has it's problems, but If you can find the good points and really focus on them, the game just seems a whole lot better.
Windows · by gilgamex (120) · 2002
Trivia
1001 Video Games
Operation Flashpoint: Cold War Crisis appears in the book 1001 Video Games You Must Play Before You Die by General Editor Tony Mott.
Copy protection
Before releasing this game, Codemasters announced that they would be using a new copy protection technology called FADE which should make the game unplayable after a while if run off a copy. It is unknown whether that technology really worked or not as there were many bugs in the game which caused the game to be unplayable even with original CDs.
Demo
Just one week after it was online, the demo has been downloaded over a million times.
Development
Operation Flashpoint survived bouncing between 3 different publishers during its development. Originally the game was to be published by Interactive Magic, then Ubi Soft, and finally Codemasters.
Easter Egg
If the system clock reports a date of December 25, some trees in the game world are replaced by decorated Christmas trees with presents.
Franchise
Operation Flashpoint: Cold War Crisis is the first game in both the Operation Flashpoint series and the ArmA series, and has also been released under the alternate title ArmA: Cold War Assault.
After the success of Operation Flashpoint, publisher Codemasters bought the rights to the brand name. Codemasters and the original developer, Bohemia Interactive, parted ways, and each continued the series on their own, effectively forking the game into completely separate, independent series. Codemasters continued the Operation Flashpoint series with its own development team on-site in England, while Bohemia Interactive continued its take on the series under the ArmA name.
Military
Operation Flashpoint was regarded to be so accurate that its developers produced the Virtual Battlespace Systems 1 (VBS1) - a version of the Operation Flashpoint engine for use by the military for training purposes. The first military customer for VBS1 was the United States Marine Corps. Its users today include the defence forces of Australia, Canada, Israel, New Zealand, the Netherlands, the United Kingdom and the United States.
References
Codemasters has confessed that many of the characters within Operation Flashpoint are based on personnel within the company. The firm's chairman Jim Darling, for example, appears within the game as the evil General Vasilli, while Codemasters' UK MP James Plaskitt also makes an appearance. (Source: MCV, Friday, July 20 2001)
Scenario
The islands featured in the game are based on real world locations. A forum competition was held to discover if anyone could figure out the exact locations.
Awards
Computer Gaming World

April 2002 (Issue #213) – Game of the Year

GameSpy

2001 – PC Action Game of the Year

GameStar (Germany)

Issue 02/2002 - Best Action Game in 2001
Information also contributed by Clive Lindop, Entorphane, Felix Knoke, Macintrash, phlux, rstevenson and Sabri Zain
Contribute
Are you familiar with this game? Help document and preserve this entry in video game history!
Contributors to this Entry
Game added by Erwin Bergervoet.
Additional contributors: Evil-Jim, Unicorn Lynx, Isdaron, JPaterson, Rantanplan, Daniel Saner, Luckspeare, tarmo888, Klaster_1, Patrick Bregger, FatherJack.
Game added April 4th, 2001. Last modified November 23rd, 2023.