Sinbad and the Throne of the Falcon
aka: Sindbad und der Thron des Falken
Description
Take to the high seas as Sinbad the sailor. You have been asked for help by the Princess to defeat the Black Prince and his minions from hell. You will fight pirates and genies, find romance and heartbreak, comedy and tragedy.
Sinbad and the Throne of the Falcon is a more action-oriented game than most other Cinemaware releases, though it still contains strategy portions in which the player has to tactically move troops around to secure victory. The game features many arcade and fighting sequences, as well as limited decision-making moments.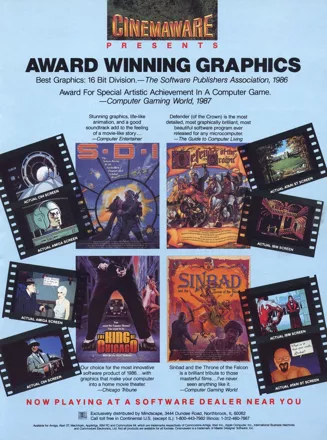 Credits (Amiga version)
6 People
| | |
| --- | --- |
| Written and Directed by | |
| Additional Art by | |
| Score | |
| Associate Producer | |
| Executive Producers | |
| Game Manual by | |
Trivia
Version differences
The Amiga version of Sinbad and the Throne of the Falcon was the first to be released and has a graphical style unique to this version, being developed almost single-handedly by Bill Williams. As Williams' art style seemingly divided critics, Cinemaware employed a different team of artists and programmers to port the game to other platforms, while retaining Williams' story and music. As a result, the versions released a year later for Atari ST, Commodore 64, MS-DOS and Apple IIGS have completely renovated graphics and significant differences in the mini-game mechanics. For instance, the shipwreck mini-game has an overhead view instead of first-person, and in the C64 version the sword fight sections are from a first-person view instead of a side view.
The differences were so pronounced as to prompt for a fan-made port of the Atari ST version to the Amiga; that unofficial port came in 2018.
Contribute
Know about this game? Add your expertise to help preserve this entry in video game history!