Alien Breed
Moby ID: 4217
See Also
Alien Breed (1991 on Amiga, 2013 on BlackBerry, 2020 on Antstream)
Alien Breed (2012 on iPhone, iPad, 2013 on PlayStation 3...)
The PC version of Alien Breed is an enhanced version of the Amiga's Alien Breed: Special Edition 92. It includes all 12 of that game's levels and intersperses them with half a dozen all-new stages.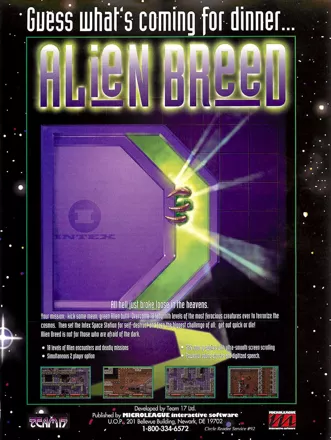 Credits (DOS version)
11 People
| | |
| --- | --- |
| PC Programming | |
| PC Music | |
| PC Graphics / Artwork | |
| PC Playtesting | |
| Produced By | |
| Technical Assistance | |
| Original Game By | |
Critics
Average score: 69% (based on 9 ratings)
Players
Average score: 3.1 out of 5 (based on 20 ratings with 1 reviews)
Gauntlet guest starring Sigourney Weaver.

The Good
Alien Breed is really a next generation-updated version of Gauntlet (or the equally classic Robotron) enhanced for serious gameplay as opposed to just being a fun but shallow arcade diversion as those previous classics.
Basically Alien Breed thrusts you into the shoes of a space marine of sorts that lands on your typical alien-infested space station from a top-down perspective. As in the classic games I mentioned the game consists of you maneuvering said marine with a simple (yet customizable) control scheme, getting items, money and the keys required to unlock the way out of the current level while you mow down the armies of alien creatures that have overrun the station. Simple, good and effective as a game of this kind should be.
The level design is kept simple and straight with little in the way of secrets or sophistication, usually you have to go hamster-like through this top-down, sci-fi maze and whenever you get to a locked door just look around for the next key or switch. As for the action, the game includes a variety of different weapons with their own strength and weaknesses, accesible through the still working dispensers all over the station, just get enough cash and you'll be able to equip that nice plasma rifle and kill some aliens more effectively, which come in all sort of flavors and colors posing different threats with their various skills (you have the fast and dangerous alien, the strong bad-ass alien, the slime-shooting alien, etc.).
The graphics and sounds are excellently designed with moody and effective sounds complementing the excellent graphics ripped right from the Amiga original that depict in lush detail the many different decks of the station as well as the aliens and our heroes. What's that? Yeah, I said HeroeS, as in both of them. See, Alien Breed allows for two player same-screen gameplay with no noticeable lag or slowdown! How's that for an early 90's PC arcade game? I can hardly think of another title that allowed for that on DOS and delivered the same amount of fast action, smooth scrolling and arcade gameplay.

The Bad
Severe identity crisis. I really don't know how a rain of lawsuits didn't fall over Alien Breed, probably because Fox hadn't yet seriously considered their Alien franchise for videogame development and the folks responsible for Robotron where too busy doing Smash T.V. on the arcades.
Team 17 was really lucky to get away with this one, then again they deserve credit for making this happen on home computers and quite frankly this was the first really good Aliens-inspired game until Doom came around.

The Bottom Line
Alien sci-fi action for your PC perfectly ported from the Amiga classic with all it's smooth scrolling, top-down, alien blasting action intact. Bonus: super-exciting multiplayer gameplay on your PC by 1991!!!
And yeah, it's sci-fi Gauntlet, and Sigourney Weaver should have asked for royalty payments from Team 17, but who cares as long as it's as fun as this?
DOS · by Zovni (10502) · 2004
Trivia
Hidden text
There are some truly bizarre and funny pieces of text in the program binary. Some of them are cheats which can be entered on the in-game "computer" screen. Most of these cheats simply respond with messages on the screen (like what the developers thought of each of the listed magazines, for example).
```
HELLO MUM! THE ACE GAMES TESTER!!! NIK DID SPIDER AND FIDDLYFODDLEBIRD HE IS A VERY NICE MAN! EEEEEKKKKKK!!!!!!!!! KEEP UP THE GOOD WORK. EXCELLENT, THE 1993 SPECIAL ISSUE GETTING BETTER ALL THE TIME! NICE TO SEE LOTS OF CD COVERAGE LEAVING MR CHRISTMAS CUT A DISK KEY TO THE CITY MR YALE OR WHAT JUST CALL ME MOGGY WHY NOT CALL ME MOGGY AS WELL JESUS THIS JIM BEAMS IS GOOD STUFF AHH BUT WILL SHE SWALLOW IT STEVIE WONDER KNACKERED JOYSTICK HARD BASTARDS ALIENS LIKE MICHAEL BOLTON FUCK OFF JANUARY SALE NOW ON ALIENS ARE BENDERS ST EMULATOR KATRINA HAS FARTED AND ITS A BEAUTY PC EMULATOR I JUST LOVE TEAM17 SOFTWARE I WANT FISH SALMAN RUSHDIE PLAYS ALIEN BREED THE IRAQIS MADE THE WEAPONS ELVIS MODE ST USERS STUART HODGKINSON MARTYN BROWN SPIDER PC REVIEW PC FORMAT PC ZONE PC HOME
```
Information also contributed by Johnny "ThunderPeel2001" Walker
Contribute
Are you familiar with this game? Help document and preserve this entry in video game history!