WWF WrestleMania
aka: WWF WrestleMania: The Arcade Game
(prices updated 9/29 3:33 AM )
WWF WrestleMania: The Arcade Game merges the personalities and action of the WWF TV show characters with a Mortal Kombat-style fighting game. This title features digitized graphics of 8 WWF superstars: Doink, Razor Ramon, Bret "Hit Man" Hart, Shawn Michaels, The Undertaker, Yokozuna, Bam Bam Bigelow, and Lex Luger.
Although presented as a wrestling title, this game is structured like a one-on-one fighter, features over-the-top special moves characteristic of WWF. Each match is divided into a series of rounds, much like a fighting game. Instead of each round ending in a KO, it simply ends when the player forces the other wrestler(s) to fall by reducing their energy meter. Game modes include single player arcade mode, tournament mode, and versus mode for one-on-one multiplayer.
Spellings
レッスルマニア・ジ・アーケードゲーム - Japanese spelling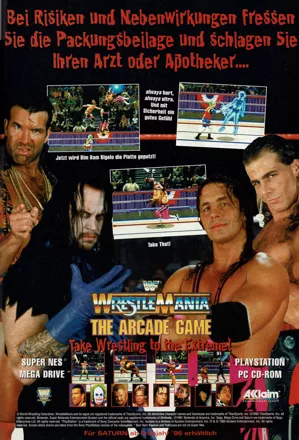 Credits (DOS version)
82 People (67 developers, 15 thanks) · View all
Project Manager
Lead Programmer
Programmers
Artists
Music and Sound
Tools Team
Testing Manager
Testing
[ full credits ]
Critics
Average score: 78% (based on 32 ratings)
Players
Average score: 3.5 out of 5 (based on 46 ratings with 1 reviews)
The Good
Its original. As opposed to normal wrestling games, this has been combined with a Mortal Kombat style game. So you see moves you'd never see the wrestling ring, its all been taken to the extreme.Also the first WWF game to feature commentary, by Vince McMahon, which is a nice touch.

The Bad
The fact you can only be six wrestlers. It really restricts the options available to you, on top of that, other ports of the arcade game had 8, so its a shame there couldnt have been more.

The Bottom Line
A fun wrestle-fest with an edge
SNES · by Big C (56) · 2003
Trivia
Cover art
Since the SNES version of the game lacks wrestlers Bam Bam Bigelow and Yokozuna, the line "Means This Is THE REAL YOKOZUNA!" that was under "DIGITIZED GRAPHICS" in the other versions' covers had to be changed to "Means Wrestlers Look Real!".
Contribute
Are you familiar with this game? Help document and preserve this entry in video game history!