Suikoden
aka: Genso Suikoden
Loosely based on the classic medieval Chinese novel Water Margins, the game is a fantasy RPG set in an imaginary universe, its main theme being political struggle. The hero of the game is the young son of Theo McDohl, a general who serves the Scarlet Moon Empire, presently controlling the land of Toran. Through a series of events the hero becomes involved in a rebellion against the Empire, led by an organization known as the Liberation Army. Will the hero find a new home there, will he be able to tear himself away from everything that has been sacred to him, including his own father?
Suikoden is a Japanese-style role-playing game with several unusual additions. There are three kinds of combat in the game, the most common one being the traditional turn-based party combat (players can have up to six people in their active party). Magic runes can be equipped on the player's characters which allow limited usage of offensive and healing spells. There are also a few army battles, where the player must control whole units of fighters, archers, magicians, etc., and one-on-one fights (duels).
The game allows the player to build and customize a castle, which serves as their home base and fortress. 108 characters can be recruited in the game, a tribute to 108 Stars Of Destiny in "Water Margins". Many of those characters will be available as active party members and participate in battles, while others will act as strategy advisers, or enhance the castle itself in various ways.
Spellings
幻想水浒传 (Huanxiang Shuihuzhuan) - Chinese spelling (simplified)
幻想水滸伝 - Japanese spelling
환상수호전 - Korean spelling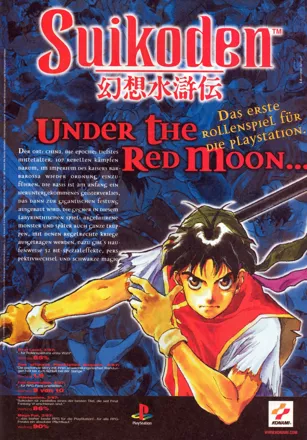 Credits (PlayStation version)
63 People (57 developers, 6 thanks) · View all
Trivia
Saturn version
When Suikoden was released on the Sega Saturn three years after its original PlayStation release, it contained a few differences from its original release. The differences can be seen summed up here.
Awards
Electronic Gaming Monthly

March 1997 (Issue 92) - Role-Playing Game of the Year runner-up (PlayStation version)

Game Informer Magazine

August 2001 (Issue 100) - voted #82 in the Top 100 Games of All Time poll
Related Sites +
Suikosource
A fansite that contains a complete list of all the characters in all the games, including their background stories. It also contains information about the game world's time-line and geography as well as fan art and gameplay guides.
Contribute
Know about this game? Add your expertise to help preserve this entry in video game history!