Sonic Colors
aka: Sonic Colours
Sonic's latest adventure takes him to the most unusual and amazing place ever seen in the Galaxy, 'Dr. Eggman's Interstellar Amusement Park'. Created by the normally evil, but ready to change his ways Dr. Eggman, the park floats in space above Sonic's home planet and opens to much fanfare. All seems decent enough, until Sonic uncovers the truth. An alien race known as the Wisps have been taken hostage by Dr. Eggman, who's using their unique powers to deadly use inside the theme park itself. Sonic arrives to save the day, of course, and discovers that the Wisps are happy to aid him in his quest, as well as share their powers with the blue blur.
Sonic Colors (or colours, depending on your country of birth) combines the Sonic staple of speed and platforming, similar to the Sonic only levels in Sonic Unleashed or the classic Sega titles of the past, and changes perspective from 3rd person just behind the lead character, or side-scrolling 2D at certain points during the game (not unlike another platform adventure in Super Mario Galaxy). But it's the Wisps abilities that add a little edge to Sonic's usual speed thrills. Each of the eight Wisp's can be used temporarily when available, and grant Sonic the ability to tunnel through dirt, or become a deadly laser that can bounce off certain surfaces, or a rocket that can blast high into the air at high speed to reach areas otherwise unreachable, just to name a few.
A Sonic Simulator mode can also be unlocked during play by collecting special red rings dotted around each level. These challenges can be played by one or two players in one-on-one or co-op modes.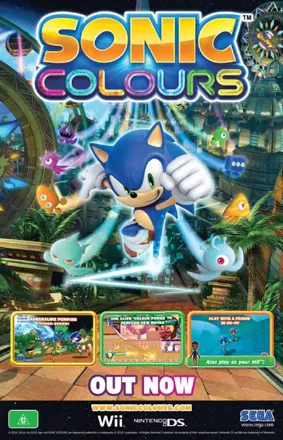 Credits (Wii version)
475 People (454 developers, 21 thanks) · View all
.
Producer
Director & Lead Game Designer
Art Director
Lead Programmer
Lead Planner
Planners
Lead Level Designer
Level Designers
Field Art Director
Lead Field Artist
Field Artists
[ full credits ]
Trivia
Promotional Bonuses
A number of bonus items came with the game via pre-orders as well as day one purchases, such as a 'Sonic head' shaped hat, figurines of Sonic and some of the Wisps, and a blue Sonic themed Wii Classic Controller.
Contribute
Know about this game? Add your expertise to help preserve this entry in video game history!