Animaniacs is a side-scrolling action/puzzle game based on the animated TV series of the same name. The Warner kids, Yakko, Wakko, and Dot have escaped the water tower again and are on a quest to retrieve movie memorabilia from the Warner Bros. studio lot.
There are 4 stages, and in each stage the Warners must work together to get past obstacles and enemies. Yakko can push or pull boxes, Wakko can use his hammer to smash things, and Dot can blow kisses to charm simple minded foes.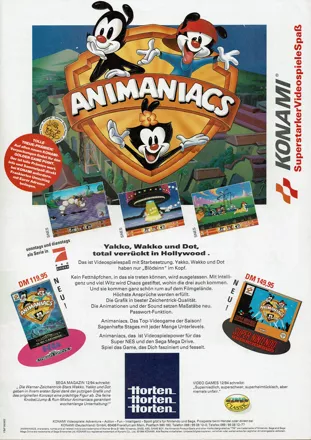 Credits (Genesis version)
32 People (21 developers, 11 thanks) · View all
Director
System Programmer
System Program Adviser
SFX & Characters Programmer
Demo Story & Characters Programmer
Sound Design
Graphic Designers
Demo Story Written By
Package & Manual Design
Licensing Manager
Special Adviser
Special Thanks To
[ full credits ]
Trivia
Animaniacs
Steven Spielberg Presents 'Animaniacs' was a popular animated TV cartoon series from Warner Bros. Episodes were aired from 1993 to 1996. The subtle humour appealed to adults as well.
Music
When played on Nintendo's Super Game Boy device for SNES, Animaniacs drops the Game Boy music and plays a special 16-bit version of the soundtrack throughout the game instead.
Information also contributed by wildweasel
Contribute
Know about this game? Add your expertise to help preserve this entry in video game history!