Sorcerer
aka: Sorcerer - INTERLOGIC Fantasy
Following the defeat of the evil Krill in Enchanter, the intrepid apprentice has become a full member of the Circle, under the command of the famed Necromancer Belboz. Very soon, however, the hero notices that something strange has been happening to the master. He frequently talks to himself and seems to be under some sort of a malevolent influence - until one day, he is mysteriously kidnapped. Looks like the brave Enchanter must venture on a perilous journey once again, and bring back the leader of the Circle.
Sorcerer is a sequel to Enchanter, and is part of the Zork universe. Like its predecessors, it is a text adventure, in which the player interacts with the game world by typing combinations of verbs and objects. The spell system from the previous game is back; a new feature is the protagonist's ability to drink magical potions, which must be done sometimes in order to solve the game's puzzles.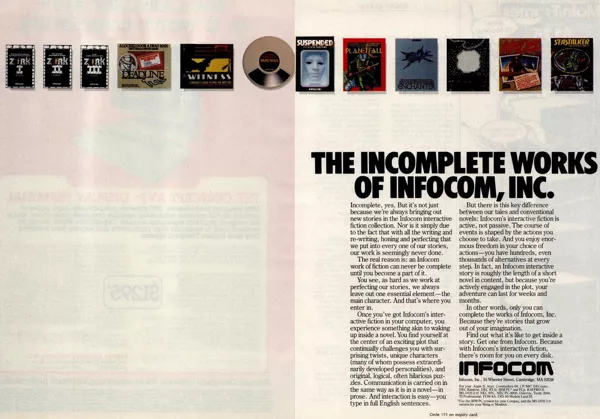 Trivia
In 1984, Sorceror was advertised on the back cover of Boy's Life magazine in an attempt by Infocom to reach a larger audience. The plan backfired when postal workers decided not to deliver that issue of the magazine on the grounds that it "advertised a satanic product".
Related Sites +
Infocom homepage
At this site you can find information on ALL of Infocom's interactive games, Infocom related articles, sample transcripts, InvisiClue hints, walkthroughs, maps and information on buying Infocom games today.
The Commodore Zone
All about the game, with introduction, images, related links and comments area.
The Infocom Gallery
High-quality scans of the grey box package and manual of Sorcerer.
Contribute
Know about this game? Add your expertise to help preserve this entry in video game history!