Conan: The Cimmerian
Moby ID: 6182
Conan the Cimmerian was living happily as a blacksmith with his wife in the village of Irskuld, Cimmeria...until one fateful day. A group of horsemen raided his village...Conan was knocked unconscious, awakening only to find his wife and his friends butchered in the aftermath. Conan discovers architect of the slaughter was a wizard named Thoth Amon, a high priest of Cult of Set. Sword in hand, vengeance aflame, Conan now travels south in the land of Hyborea to the city of Shadizar. Here his journey of vengeance begins...
Conan: The Cimmerian is an action-adventure game with some RPG elements. The game is divided into 3 areas. The first is the overland map, where Conan may travel only between identifiable town and other locations. The second is the town map, here Conan is viewed in a horizontal 3rd Person and the last is the combat screen (or when he enters houses) where Conan is viewed in vertical 3rd Person. Conan may also view his character status and inventory sheet, anytime during the course of the game.
Gameplay consists of exploration and combat. The exploration element in the game sets Conan to find his way around towns and hidden locations, often breaking in houses and searching the premises for hidden loot. Towns consist of various places to visit, among others temples which usually offer quests, shops offering weapons and other items, and inns to stay for a health boost. NPC's may be conversed with to seek information, while the tougher-looking types may be provoked into combat.
Combat is real-time, one-on-one with Conan on the left and the opponent on the right, consisting of only movement to the left or right and attacking. There are no defensive maneuvers. Both must now keep on attacking until the health bar of either side drops to zero. If Conan wins, he may search the remains and may find loot. At the beginning of the game, Conan may only use one sword style (swing) out of three available sword styles. Additional sword styles may be trained by a sword master.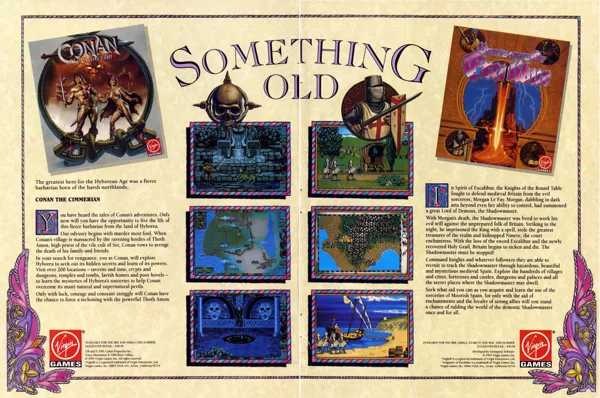 Credits (DOS version)
38 People (30 developers, 8 thanks) · View all
Developed by
Directed by
Original Game Design
Lead Programming
Associate Programming
Lead Artist
Associate Artists
Music Composition
PC Music drivers
PC Sound and Voice work
Quality Assurance
[ full credits ]
Critics
Average score: 75% (based on 8 ratings)
Players
Average score: 3.5 out of 5 (based on 15 ratings with 0 reviews)
Be the first to review this game!
Trivia
Cover art
The cover art, like some scenes in the movie, was a tribute to the art of Frank Frazetta.
Information also contributed by Scott Monster
Contribute
Are you familiar with this game? Help document and preserve this entry in video game history!
Contributors to this Entry
Game added by gilgamex.
Amiga added by Terok Nor.
Additional contributors: Zovni, Patrick Bregger.
Game added April 16th, 2002. Last modified November 26th, 2023.