Where in Time Is Carmen Sandiego?
Carmen Sandiego and her gang are loose once again, and it is the players job to capture her! This time round the player not only has to find where she is, but also when she is. Traveling to various locations, they need to assemble clues by questioning witnesses and searching locations to close in and capture Carmen Sandiego. Included with the game is The New America Desk Encyclopedia to help make clues more meaningful (and act as a form of copy protection!).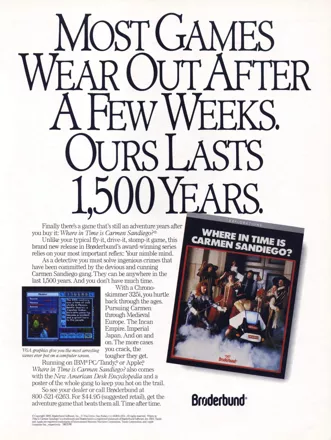 Credits (DOS version)
19 People
| | |
| --- | --- |
| Design | |
| IBM/Tandy version programming | |
| Apple version programming | |
| Graphics | |
| Product Manager | |
| Clues | |
| Manual | |
| Special thanks to (Marketing Manager) | |
| Special thanks to (Publisher) | |
| Special thanks to (Brøderbund Quality Assurance) | |
Trivia
Game show
This game was made into a game show on PBS from 1996 to 1998. Lynne Thigpen ("Ella Farmer" from "The District") played The Chief.
Hadrian's Wall
The game seems to be a bit confused over the location of where Hadrian's Wall is supposed to be in the world (Hadrian's Wall is in Scotland or rather the Scottish/English boundary), and the game presumes it to be stolen from either Russia or Spain.
Information also contributed by LepricahnsGold
Contribute
Know about this game? Add your expertise to help preserve this entry in video game history!