Jill of the Jungle is the first episode of a shareware series. It is a platform game where the player takes the role of the titular character: an amazon woman who takes the untypical role of monster-slaying, leather-wearing feminist warrior. Jill's most distinguishing ability is morphing into various creatures, such as a bird, a fish, and others, which allow her to explore specific areas. Levels often feature platform structures that must be navigate precisely, as well as keys that must be found in order to advance. There are no boss battles in the game. The game can be saved anywhere.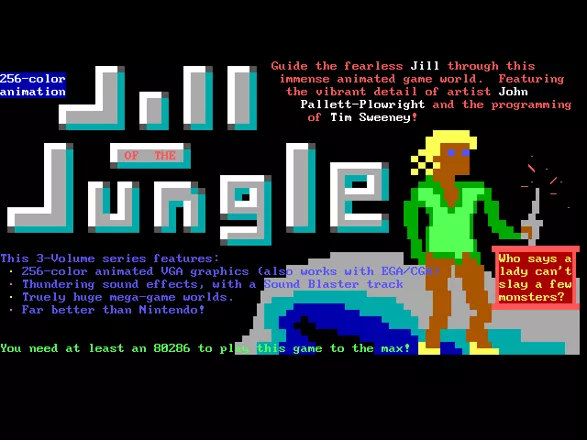 Credits (DOS version)
6 People (4 developers, 2 thanks)
| | |
| --- | --- |
| Design | |
| Programming | |
| Graphics / Artwork | |
| Music | |
| Sound | |
| Special Thanks To | |
| Production | |
Trivia
Noise Maker
One of the 'non-game' features in Jill of the Jungle is the 'Mega Noise Maker', which obviously only does just that: Make noise. Press any letter key/qwerty key and it delivers state of the art...Noise.
Release
Jill of the Jungle was given as a gift if you bought three packages of local Israeli chocolate (Elite).
Information also contributed by Indra is here
Contribute
Know about this game? Add your expertise to help preserve this entry in video game history!