Uniracers
aka: 1x1, Unirally
What do you get if you cross Sonic the Hedgehog with Tony Hawk's Pro Skater?
It might seem an odd combination, but it describes Uniracers perfectly. One of the more successful releases of the Super Nintendo's twilight era, Uniracers mixes platform-based high-speed racing, with crazy stunts and tricks.
The basic idea in most levels of the game is simple. Get your unicycle from A to B as quickly as possible, and finish ahead of your opponent. It's like Sonic, but with none of those pesky enemies, pointless power-ups and frustrating obstructions. In fact it doesn't sound like much of a game at all...
Here's the key, though. Tricks performed and landed during the race increase your speed. The better the trick, the greater your increase in speed will be.
Also, some levels are set in areas designed solely for stunts. Such levels require you to earn as many style points as possible, by doing tricks. These levels are against the clock, and a set points score, rather than an opponent.
Unicycles are stupid and difficult, and yet fun, once you get the hang of them. Much the same could be said about Uniracers...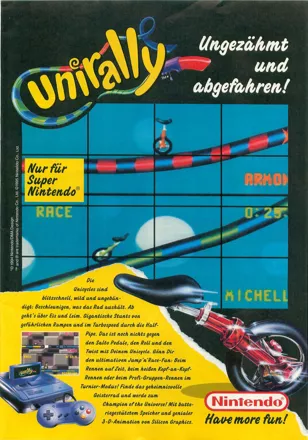 Trivia
1001 Video Games
Uniracers appears in the book 1001 Video Games You Must Play Before You Die by General Editor Tony Mott.
Inspiration and lawsuit
According to Mike Dailly who worked with DMA Design:
Dave [Jones] sort of got the idea [for the game] from Red's Dream - an old Pixar short [from 1987, an excerpt of which can be seen here], although how he translated that into a mad racing game is anyone's guess.
Pixar took note of the game, and sued DMA for copying the unicycle design and concept. Mike elaborates: "The problem with Pixar was that they seemed to think that any computer generated unicycle was owned by them."Despite the speciousness of Pixar's claims, DMA lost the lawsuit, and the court ordered no further cartridges of the critically-favoured game be manufactured beyond the initial run of 300 thousand. Thwarted this escape avenue from Lemmings hell, DMA went on to cry all the way to the bank with the Grand Theft Auto series, never looking back.
Names
In addition to swears and sexual terms, entering "SONIC", "SEGA", or "SATAN" as the name for your unicycle will also have the game tell you that it's "not cool enough" and the name will be rejected.
Information also contributed by leileilol.
Contribute
Know about this game? Add your expertise to help preserve this entry in video game history!