This is an adaptation of the Monopoly board game for computers, completely reproducing all aspects of gameplay. Player movements can be presented as 3D animations, but those can be optionally turned off for those who don't want to see animations. There can be up to 6 players at once, and it can be played over the Internet. Music is in MIDI format, with WAV sound effects. Roll dice, spin around the board, and don't forget to have fun as you pass GO!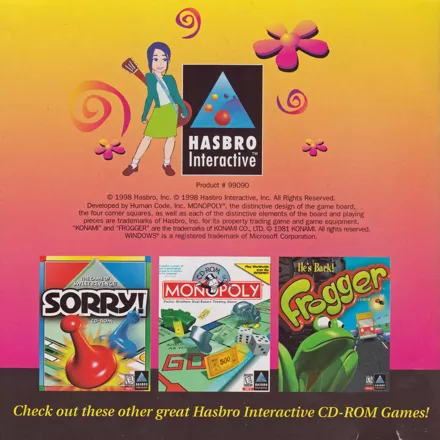 Credits (Windows version)
58 People (52 developers, 6 thanks) · View all
Senior Producer
Product Management
Assistant Producer
Technical Director
Packaging
Director of Marketing
Promotions
Quality Assurance
Special Thanks
Executive Producer
Producer
Lead Programers
Programers
[ full credits ]
Critics
Average score: 72% (based on 14 ratings)
Players
Average score: 3.3 out of 5 (based on 16 ratings with 2 reviews)
The Good
I have fond memories of playing Monopoly on a traditional board as a kid... games between my sister and I that could last days. Now, in adulthood, setting aside hour after hour for a board game just isn't practical. The CD-ROM version of Monopoly changed that, a typical game against CPU opponents can last as little as 10 minutes! No more counting out physical bills or trying to remember to catch your opponent on your property - the computer obviously does all that for you in the blink of an eye.
The best part of the game for me is the customizable features. These include reducing/eliminating mundane animations and sounds as you see fit to speed up your game, as well as adjusting the rules and options (i.e. "Landing on GO doubles salary", "Free parking collects fines, "Transactions allowed from Jail", etc.) These are all things I remember doing with the real game, so I'm very pleased they're available in this version.

The Bad
I have a hard time believing the rolls of the dice are truly random... a typical 1st lap around the game board begins with my CPU opponents acquiring property after property, and me landing on Chance, Community Chest, Go To Jail, etc, and acquiring little. Very frustrating when the rolls seem rigged and the CPU players getting all the initials advantages.
The AI is a real pushover... and there's no way to increase the difficulty. It's incredibly easy to dominate, even if you've had some bad rolls of the dice and unlucky circumstances. Your CPU opponent will do anything to acquire a complete color group (for developing with houses/hotels), and will trade away everything else in their possession (including their bank) to get it. Several trades of this nature can net you a nice haul of random properties (or a lesser color group of your own), and leave your opponents penniless to develop their newly acquired group (you can even mortgage the property you give them in advance to squeeze out every last drop of value!). This can be satisfying, but loses its appeal quickly with easy victory after easy victory.
I didn't try, but I doubt the online play feature is still functional... so gameplay is limited to several humans surrounding the same computer screen, or human vs. CPU. Limiting, but I guess still not as limiting as the real board game!

The Bottom Line
Board games are often at their best when played electronically... much of the mundane minutiae of counting physical money, rolling dice, moving game pieces, etc, gets cut out and gameplay becomes streamlined. No longer does a game like Monopoly take hours (or days), and no longer do you have to convince another person to actually sit down and devote so much time to it. That in itself is enough to hold on to a version of this title and pull it out now and again.
Windows · by Condemned (71) · 2010
Quite successful switch from a board game.

The Good
Amazing how great and popular board games like Chess or Monopoly can be successfully transported to computer. As all those board games posses some rules, all the programming job is to toss them onto the code, and patch some AI players when not playing multiplayer mode. Personally, I prefer to play Chess or Monopoly in reality, but that cannot, and won't stop me from admiting they can actually look good on the computer. Just check all those Chessmaster series, coming from old '80s, and even with a slight difference into enliving the game by actually makeing 'alive' figures, like Battle Chess series.
The game supports up to six players at once, either on the same computer, or over Internet. Even though I don't see the 'bright' reason of making a turn-based game available for LAN or Internet, most of them support that part or wire. I don't know how, but they made movement over board animated, depending what metal figure you chose. If they didn't use 'transparency' method on that, I don't know what did they, as I saw some screen shots were above 256 colors when I captured them. Could've be I was in 16bit color Windows mode, hmm I don't know. Anyway, if you're not up to waiting the animations each time someone toss the dice, you can cut them off with an imported option, so the whole board will just stay in 2d viewport.
Nice thing is that they made so helluva much different songs you can shuffle (though being in MIDI format), you won't get bored in that topic. However, if you want to hear ambient sound when buying the land, or building effects, or rolling dice, you will have to click 'no sound' option. Maybe I just couldn't figure how to use it both on my AW64, but it's as good as it gets :)

The Bad
First things first. As I played Monopoly under my Windows 98SE (it's the same on Win 95/98), the game is suited in its own window using about 640x480 resolution or some unique but similar. However, when you punch out to maximize the screen, the game jumps into top-left quadrant, leaving first, third and fourth quadrant black. I can't think of it why Westwood permits itself such a lousy error, I can only guess they did that on purpose (or did Hasbro Interactive had something to do with it). However, if you check Sierra's PC games like Lighthouse, or The Beast Within, or perhaps some other adventure made for Windows 3.x and DOS, but since Windows 95 platform showed up at those times, they made 'em work under that platform. You can clearly see how the games also posses window structure, like Monopoly does, but when you maximaze it, it stays centered. Bravo Sierra!
Beside that, I can't find any annoying error (not now), except that I don't like the game too much, and rather play Monopoly in reality, having it just simply 'cuz many Westwoodians worked on it.

The Bottom Line
If you ask me, this kinda game is great for kids or family competition, and you won't have to get real Monopoly if you have this. Beside, it'll give you the opportunity to play with five other friends across the globe over Internet or Westwood Service (if they still offer it for this game).
Windows · by MAT (238622) · 2012
Trivia
Awards
Computer Gaming World

November 1996 (15th anniversary issue) – #113 in the "150 Best Games of All Time" list
November 1996 (15th anniversary issue) – #15 Top Sleeper Of All Time
Information also contributed by Zack Green
Contribute
Are you familiar with this game? Help document and preserve this entry in video game history!