You're a skateboarder in Skate City, one of the largest skateparks ever built. Ollie off of ramps, grind on rails, and swerve past pedestrians as you bust out tricks. Visit skate shops scattered around the park to upgrade your gear and improve your skills. Participate in competitions to earn medals and cash to use in the shops. But, if you don't get to a competition in time, the infamous "Skate Or Die" message appears, and then you have to hurry!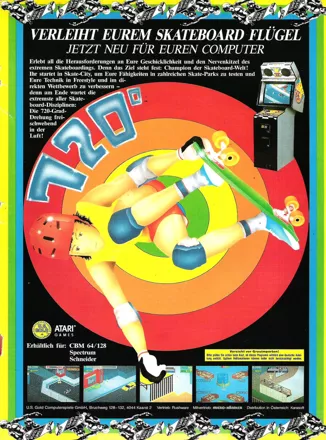 Credits (Arcade version)
19 People (18 developers, 1 thanks)
| | |
| --- | --- |
| Software/Game Design | |
| Playfield/Game Design | |
| Software | |
| Technical Assistance | |
| Animation | |
| Audio | |
| Music | |
| Control Design | |
| Game Design | |
| Cabinet Design | |
| Hardware Support | |
| With invaluable support from | |
| Special Thanks to | |
Trivia
1001 Video Games
The Arcade version of 720º appears in the book 1001 Video Games You Must Play Before You Die by General Editor Tony Mott.
Different versions
There are two versions of the game for C64. UK version is far superior with the graphics which managed to resemble arcade game more than the cartoon-like US version and the board's "feel" and weight is more spot-on. The disk based US version has a painful multi-load, contains almost no sound effects and music and the game's scrolling is often very wobbly.
UK National Computer Games Championship 1988
The Commodore 64 and Spectrum versions are used as competition game in the qualifiers for the computer gaming contest in the UK in 1988. The game was played for high-score.
Awards
Commodore Format

March 1994 (Issue 42) – Heaven: Music of the Gods
Contribute
Know about this game? Add your expertise to help preserve this entry in video game history!