Bomberman
aka: Bomber Man, Bomberman Special
Bomberman was a robot in a bomb making factory who longed for his freedom. Rumors circulated that escaping to the surface would allow the robot to become human. Getting out would be the trick. Each room is inhabited by monsters that must be neutralized and the exit itself hidden underneath bricks.
The first of the Bomberman series, Bomberman is a single-player game with a top down view and simplistic controls. In fact, in addition to movement, the player only has a single ability: placing bombs. Each bomb explodes into a cross-shaped blast (four directions) which can destroy either enemies or blocks. Power-ups may be found to increase the size of the blast, place additional bombs, increase the speed of the Bomberman or to walk through walls. The goal on each level is to destroy all enemies and escape through the exit before the time limit is up. Hitting the exit with a bomb blast releases more enemies which must also be destroyed.
Spellings
ボンバーマン - Japanese spelling
炸弹人 - Chinese spelling (simplified)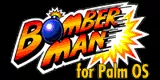 Trivia
Development history
The NES/Famicom version of the game was programmed entirely by Shinichi Nakamoto in three sleepless days...incredible for a game that ended up selling over a million copies. Apparently Nakamoto had a habit of chewing gum as he programmed, and when he ran out of gum he started chewing on pencils instead without even looking away from the screen.
Ending (Spoiler!)
At the end of the NES version of this game it is revealed that you helped turn Bomberman from a robot into a human being. The human he turns into is none other than the lead character in the NES version of Lode Runner.
Contribute
Know about this game? Add your expertise to help preserve this entry in video game history!