Bomberman
aka: Dyna Blaster
Moby ID: 5143
The black spaceman kidnapped Bomberman's beloved and brought her to his chambers in the castle, far beyond his reach, over the rivers, forest and mountains. Bomberman's job is to save her, battling the sea of the enemies, with only bombs at his disposal.
The range of Bomberman's bomb explosions can be upgraded with time, but if he dies, the range resets back to the minimum range and Bomberman loses his previous skills. Some updates can make Bomberman walk through the walls, increase his speed, and give him some other assets to aid him in his quest to save the woman he loves.
This top-down action-arcade game consists of nine levels per stage, each tougher than the other, and each final one consisting of the boss that will have to be dealt with. Bomberman can move horizontally and vertically and lay down bombs behind him, thus evaporating the enemies, but beware: Bomberman can block himself with his own bomb, and thus become a victim of his own bomb.
Spellings
ボンバーマン - Japanese spelling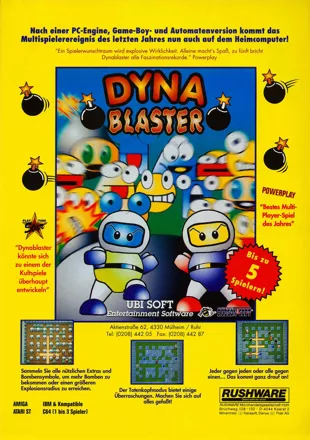 Credits (TurboGrafx-16 version)
7 People
| | |
| --- | --- |
| Game Designer | |
| Main Programmer | |
| Sub Programmer | |
| Graphics Designers | |
| Music Composer | |
| Sound Programmer | |
Critics
Average score: 84% (based on 25 ratings)
Players
Average score: 3.8 out of 5 (based on 63 ratings with 2 reviews)
The Good
When I first got a Pc back in 1992, one of the games that I had was Dyna Blaster. it is the same game as Bomberman but with a different title. It had one of the storylines that were not complicated to follow. You see, Black Bomberman decides to emerge from his castle and steal the professor's girlfriend from his lab, and it is up to White Bomberman to rescue her. There are eight rounds in the game, consisting of eight levels each, and to get through each level, you must lay a bomb or a series of bombs to destroy the enemies in the level. But enemies are not the only things that you can bomb. You see, you can also use those bombs to destroy blocks, which is necessary to finding the exit door after you are done with the enemies. Once you have gotten through all eight levels, you proceed to the next round, and at the end of each, you will have to defeat a boss which will take a bit of a pounding.
Power-ups can also be collected when you have destroyed all enemies, and include extra lives, more bombs, wider explosions, and manual detonation. An extra power-up allows you to have the ability of walking through bombs or walls. I don't think that there is a limit on the number of bombs that you carry, so the more you get, the better. With the manual detonation, you do not have to wait at least five seconds for the bomb to detonate. You can blow it up immediately, not giving enemies the chance to escape if they happen to be near it when it goes off. My strategy is to lay out the bombs in different places, especially near enemies, and hope that you can blow something up.
In some of the early rounds in each area, everything is laid out on one screen and you can immediately see the enemies that you have to blow up. Later ones, however, require you to scroll either horizontally or vertically to see the rest of the enemies. Speaking of which, some enemies are smarter than others. At least four of the enemies can walk through the blocks, making it difficult for you to blow them up unless you have manual detonation.
The graphics are very good, especially the ones that are used in rounds three and six. The animations of both Bomberman and the enemies moving are well done, especially the animations of the characters dying. There is a huge selection of music in the game, and they are easy to remember off by heart. All the sound effects are mostly Bomberman walking, an explosion, and the damage being done to a boss, as well as deaths, but the sound that I think that stands out is when Bomberman walks through water in round three.

The Bad
You will not get very far without manual detonation, since you have to wait until the bomb explodes itself, meaning that enemies could have the chance to escape. There is one more power-up that you can get, and looks like a vest. I thought that this makes you invincible, but it turns out that it is useless.

The Bottom Line
While you are busy bombing the place, you have a time limit. If it expires, more enemies will warp into the level. If you manage to reveal an exit, but set a bomb to explode near it, enemies will also appear, which you will have to destroy before the exit becomes accessible again. Bomberman was so popular for its time, that several sequels were made for different systems, and some of the sequels are excellent.
Rating: ****
TurboGrafx-16 · by Katakis | カタキス (43051) · 2005
An explosion show for Amiga computers!

The Good
Dyna Blaster, for Amiga, was essentially the TurboGrafx-16's Bomberman version released in Europe. This classic also was nice on the computers! Amiga's version had nice gameplay, graphics, music themes and sound effects. It had also single and multi player modes, using the joystick(s) and the keyboard. Everything in only a floppy disk!

The Bad
Nothing, unless considering the Amiga loading time for games...

The Bottom Line
Bomberman was, and still is, a classic explosion action game for video game consoles and computers. It's worth to play it and explode everything you see (except yourself)! Highly recommended for gamers.
Amiga · by Gustavo Henrique dos Santos (97) · 2014
Trivia
1001 Video Games
The PC Engine version of Bomberman appears in the book 1001 Video Games You Must Play Before You Die by General Editor Tony Mott.
Cancelled C64 version
A C64 version was planned, and advertised as if released, but never completed. This version was to only support three players.
Multiplayer
The released versions supported five players, a fact memorably illustrated on an episode of the UK TV show Gamesmaster, when the five members of the pop group Take That played it as part of a challenge.
Awards
Amiga Joker

Issue 02/1993 – #3 Best Dexterity Game of 1992 (Readers' Vote)

Power Play

Issue 02/1992 – Best Multiplayer Game in 1991
Contribute
Are you familiar with this game? Help document and preserve this entry in video game history!