Bomberman
aka: Dyna Blaster
The black spaceman kidnapped Bomberman's beloved and brought her to his chambers in the castle, far beyond his reach, over the rivers, forest and mountains. Bomberman's job is to save her, battling the sea of the enemies, with only bombs at his disposal.
The range of Bomberman's bomb explosions can be upgraded with time, but if he dies, the range resets back to the minimum range and Bomberman loses his previous skills. Some updates can make Bomberman walk through the walls, increase his speed, and give him some other assets to aid him in his quest to save the woman he loves.
This top-down action-arcade game consists of nine levels per stage, each tougher than the other, and each final one consisting of the boss that will have to be dealt with. Bomberman can move horizontally and vertically and lay down bombs behind him, thus evaporating the enemies, but beware: Bomberman can block himself with his own bomb, and thus become a victim of his own bomb.
Spellings
ボンバーマン - Japanese spelling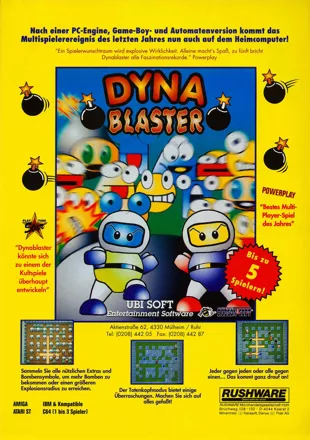 Credits (TurboGrafx-16 version)
7 People
| | |
| --- | --- |
| Game Designer | |
| Main Programmer | |
| Sub Programmer | |
| Graphics Designers | |
| Music Composer | |
| Sound Programmer | |
Trivia
1001 Video Games
The PC Engine version of Bomberman appears in the book 1001 Video Games You Must Play Before You Die by General Editor Tony Mott.
Cancelled C64 version
A C64 version was planned, and advertised as if released, but never completed. This version was to only support three players.
Multiplayer
The released versions supported five players, a fact memorably illustrated on an episode of the UK TV show Gamesmaster, when the five members of the pop group Take That played it as part of a challenge.
Awards
Amiga Joker

Issue 02/1993 – #3 Best Dexterity Game of 1992 (Readers' Vote)

Power Play

Issue 02/1992 – Best Multiplayer Game in 1991
Contribute
Know about this game? Add your expertise to help preserve this entry in video game history!