Space Quest IV: Roger Wilco and the Time Rippers
aka: SQ4, Space Quest 4, Space Quest IV: Roger Wilco e i Viaggiatori del Tempo, Space Quest IV: Roger Wilco und die Zeitspringer
Following his humorous adventures in previous game, Roger Wilco is relaxing at his favorite pub somewhere in time and space when heavily armed soldiers enter the room. Carrying a parting message from Roger's old nemesis, Sludge Vohaul, they plan to get rid of the janitorial hero, execution style. That is, until a man with an over-sized hair dryer helps Roger escape through a time rip into the future. Now Roger Wilco has woken up on his home planet, some time in a meta-fictional Space Quest XII. It is a grim, dystopian future: the series has gone to ruin without its hero, and Vohaul rules supreme. Roger must find a way to avoid Vohaul's henchmen, fulfill his destiny, and learn about a few surprises that await him in his own future.
Space Quest IV is the first in the Space Quest series to feature Sierra's icon-based SCI interface and 256-color graphics. The command set includes icons for walking, looking, using or taking, talking, smelling, tasting, as well as inventory access. Roger Wilco is shown on the screen from the exterior in multiple viewpoints. Like in the previous games, inventory-based puzzle-solving co-exists with timed tasks and various hazards that will kill Roger if the player is not careful.
Spellings
Space Quest 4: Roger Wilco and the Time Rippers - Alternate spelling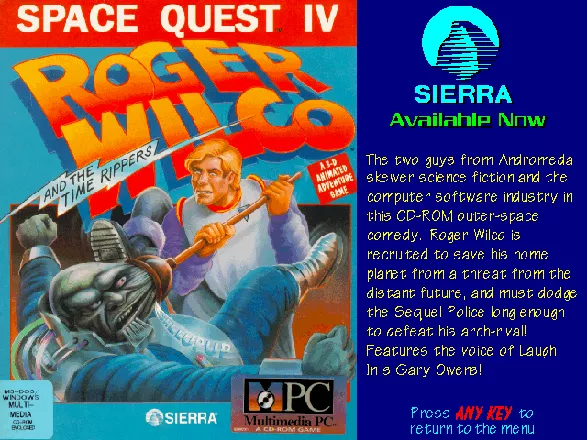 Credits (DOS version)
55 People (51 developers, 4 thanks) · View all
Original Concept
Project Leader
Lead Design
Programming
Graphics / Artwork
[ full credits ]
Trivia
Gags
At some point near the end of the game, you are presented with a computer that has a GUI with a few icons and a toilet and you must flush a malicious program (remember - we're in 1990 where GUIs on PCs were not that common yet). There was an icon labeled SQ4: if you dragged it in the toilet, the game ended without warning and dropped you abruptly to the DOS prompt.
As with most adventure games of its time, this one used more floppies than ever. No wonder the authors thought of this joke: You could go inside the "Radio Shock" store and see in the bargain bin a copy of "King's Quest 48 , The quest for disk space" (or whatever sequel number it was).
Mark Crowe
Mark Crowe, one of the Space Quest series original designers, has stated that Space Quest IV is the game in the series that he considers his 'tour-de-force'. He worked on Space Quests 1-5.
Radio Shock controversy
After complaints from a certain widespread electronics chain, the name of the store "Radio Shock" in the Galaxy Galleria was changed to "Htz So Good" for the CD-ROM version.
References: Software store
The games at the software store are all parodies of other games. Here's a list of the parodied games: * "Boom" by Morrie Brianarty is a parody of Loom by Brian Moriarty. * "It came for Dessert" is a parody of It came from the Desert. * "Defender of the Crown Rib Roast" is a parody of Defender of the Crown. * "Where in the World is Hymie Lipshitz (and who really cares)" is a parody on Where in the World is Carmen Santiego. * "Sim Sim" from MaxThis is a parody on the Sim games from Maxis. * "Cluck Egger" lets you design a chicken and fly it over barnyard scenery. This is a parody on the flight simulator Chuck Yeager.
References: Space Quest series
There's a secret time code in the game that takes you to Ortega (SQ3). It's simple: type in the top row left to right, then type in the leftmost symbol in the second row. There are also persistant rumors that there's a code for Space Quest II, but it's never been found.
If you smell the back of Droids-B-Us at Ulence Flats, the game says: "Smells like another lawsuit coming back to haunt the Two Guys from Andromeda". The reason?? Scott Murphy and Mark Crowe got sued by Toys-R-Us for putting Droids-B-Us in Space Quest.
References: Sierra games
References: Various
At the Big and Tall store at the Galaxy Galleria, you can occasionally spot a guy rummaging around, occasionally pulling out a pair of red shorts. This is Bob Andrews, former Sierra OnLine programmer.
Luke Skywalker's little red speeder is disguised as the crashed hovercraft on the Xenon streets.
The trash can in the Galleria's Arcade is one of the agents from Get Smart.
During your visit to Ulence Flats, the Blues Brothers appear on stage at the bar, since they also appear in SQ1.
The robots in the SuperComputer are the Imperial ProBots from the Star Wars movies.
When you first visit the Software Store at the Galaxy Galleria, the bouncer will tell you that the Two Geeks From Andromeda are in there, signing copies of their latest release.
Releases
The DOS version of Space Quest IV was available in four different packages: a 16 color version (supporting EGA, MCGA, VGA, Tandy/PCjr) with either 3.5" DD or 5.25" HD disks, and a 256 color version (supporting MCGA, VGA) with either 3.5" HD disks or 5.25" HD disks.
Roger Wilco
From this entry on in the series, 'Roger Wilco' was included in the title of each game (actually in a bigger font than the actual 'Space Quest' bit), as by this time the character had grown and become as well-identified as the actual 'Space Quest' title by gamers (rather like Lara Croft in the Tomb Raider series).
Also this is the only game in the series in which there is neither access to a janitorial closet, nor a single conventional cleaning implement among the inventory items. Clearly, Crowe and Murphy intended Roger Wilco's adventures to continue without any occupational restrictions on the character.
Timed events
Certain sections of the game use an event timer that relies on your system clock. (even though the game speed itself adjusts according to the processor) This makes it virtually impossible to even begin the game on a modern machine - the mutant in the first section appears every few seconds, killing you instantly.
Version differences
The dialogue for the DOS and Amiga versions are identical, except for the part where one of the monochrome boys speak to you, where what he says will depend on the number of colors used in the game.
EGA version: * "Well, lookee here! If it ain't Mister Look-at-me-I'm-in-EGA" * "Whatsamatter, monochrome not good enough for you?" * "What's this, 16 colors all for one little bitmapped WIMP?! What a waste of EGA. Har, har!" * "Hey, fellas! I bet I can toss him all the way-out from the bottom of the stairs. Bet 'ya an ale."
VGA version: * "Well, lookee here! If it ain't Mister Look-at-me-I'm-in-VGA" * "Whatsamatter, monochrome not good enough for you?" * "What's this, 256 colors all for one little bitmapped WIMP?! What a waste of VGA. Har, har!" * "Hey, fellas! I bet I can toss him all the way-out from the bottom of the stairs. Bet 'ya an ale."
Amiga: * "Well, lookee here! If it ain't Mister Look-at-me-I'm-in-32-Colors" * "Whatsamatter, monochrome not good enough for you?" * "What's this, 32 colors all for one little bitmapped WIMP?! What a waste of color. Har, har!" * "Hey, fellas! I bet I can toss him all the way-out from the bottom of the stairs. Bet 'ya an ale."
Voice acting
Aside from the narrator Gary Owens, all voices in the game are done by Sierra employees. Guy from Andromeda Scott Murphy even does the voice of Sludge Vohaul.
Awards
Computer Gaming World

November 1996 (15th anniversary issue) – Funniest Computer Game

Power Play

Issue 02/1992 – Best Graphics in 1991
Issue 02/1992 – Best Sound in 1991
Information also contributed by 6⅞ of Nine, Allan Chan, Anthony Bull, B14ck W01f, Jayson Firestorm, Olivier Masse, Servo, William Shawn McDonie and WizardX
Related Sites +
Hints for SQ4
These hints will help you solve the game.
IGCD Internet Game Cars Database
Game page on IGCD, a database that tries to archive vehicles found in video games.
SpaceQuest.Net - Space Quest 4
Extremely comprehensive site about Space Quest 4: Basic game information, hints, documentation, downloads and behind the scenes stuff, for example a downloadable PDF manual, scans of the official hint book, easter eggs, fun facts, cancelled stuff etc. etc. etc.
Contribute
Know about this game? Add your expertise to help preserve this entry in video game history!
Contributors to this Entry
Game added by Andy Roark.
Amiga added by POMAH. PC-98, Macintosh added by Terok Nor. Windows 3.x added by Katakis | カタキス.
Additional contributors: nullnullnull, Nathan Kovner, Jeanne, Jayson Firestorm, Shoddyan, General Error, formercontrib, 6⅞ of Nine, Patrick Bregger, Victor Vance.
Game added May 27th, 1999. Last modified May 29th, 2023.