Alien Breed II: The Horror Continues
Description
Alien Breed II: The Horror Continues has Gauntlet-influenced gameplay, similar to the original Alien Breed (and the Alien Breed Special Edition '92), but with many new features. As one of four Interplanetary Corps soldiers, you must visit a remote alien-infested colony and destroy the alien invaders. The game is split into 3 main towers: Civilian, Military, and Science. There are also corridors linking them and outdoor levels. In total there are 17 zones, each featuring numerous different aliens and backgrounds. As you go through the game you collect credits, which can be traded for weapons, ammunition, and other enhancements through the in-game computers. Keys are collected as you progress, which must be used wisely, as there are many rooms containing bonuses that don't have to be entered. Just like before, the game can be played solo or with a friend.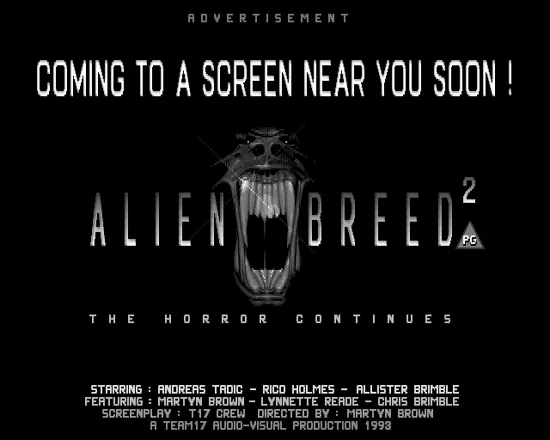 Credits (Amiga version)
5 People
| | |
| --- | --- |
| Design | |
| Coding | |
| Graphics | |
| Audio | |
| Sound samples | |
| Production | |
Critics
Average score: 82% (based on 18 ratings)
Players
Average score: 4.1 out of 5 (based on 13 ratings with 0 reviews)
Be the first to review this game!
Trivia
AGA/ECS version
"Alien Breed 2" was originally created for Amiga with AGA chipset only. It was one of the first games that makes full use of it enhancing the game with more in-game colours, less dithered loading screens and better sounds. A few weeks later ECS version appeared. The latter was not only a graphic-reduced version. Good listeners will also find out that the main tune of the game is slightly different, the in-game atmospheric static noises and sound effects were reduced and there is no vocal welcome when you enter the Intex system. On the positive side ECS version was enhanced in memory management aspects reducing loading times when run on a computer equipped with more than 1 MB of RAM.
CD32 version
CD32 version of the game was never planned but eventually the owners of this machine can play this game directly from CD. AGA version of the game was bundled with "Alien Breed Tower Assault" CD32 version as a bonus.
New features
"Alien Breed 2" stands out from "Alien Breed" and "Alien Breed Special Edition 92" in many aspects:
The game has more colony like concept of towers with corridors that link them together. Thanks to that, there is more mission-like atmosphere instead of walking through a maze approach.
At the start of the game there are four characters to choose from. Each of them (apart from Johnson and Stone - they are the same) starts with different type of weapon, tool, set of keys and amount of credits. Apart from easy and hard difficulty level it also impacts the toughness of the gameplay.
Timer of the destruction sequence is not visible. Instead the amount of seconds that are left is spoken.
Doors can be destroyed by a gun. It is a really handy way of progressing further when you run out of keys which in "Alien Breed" were in real scarce.
There are no doors that could be sealed shut. They were a really nice touch in the predecessor giving an Alien-like atmosphere but it never really worked out in a shooter game when in most cases you closed these doors accidentally trapping yourself and giving yourself no chance to progress in the game.
Aliens are respawning in a reasonable time after kill. There are no cases that you cleared a room and made a pixel move and aliens appeared again and again.
Promo pictures
Traditionally, on the first disk of the game Team 17 put promo pictures of upcoming titles. ECS version of the game contains one promo picture of "Assassin Special Edition" and three promo pictures of "Body Blows Galactic". AGA version of the game does not contain any commercials due to lack of free space on disks.
Contribute
Are you familiar with this game? Help document and preserve this entry in video game history!
Contributors to this Entry
Game added by Martin Smith.
Antstream added by lights out party. BlackBerry added by MAT.
Additional contributors: mailmanppa.
Game added January 3rd, 2005. Last modified May 10th, 2023.