Most of the game's action takes place on the bottom of the DS's two screens, where colored meteors plummet downwards towards a planet's atmosphere. There, they form columns that the user can manipulate with either the stylus or a combination of the D-pad and A button. When three or more meteors of the same color are arranged either vertically or horizontally, they "ignite" and rocket up towards the top screen. Rockets carry upwards any other metors that happen to be above them, and by stringing together several ignitions it is possible to lift many blocks at once. The ultimate objective of the game is to lift as many metors as possible back into "orbit" in the top screen; the game is over if the bottom screen fills up completely with meteors. Meteos features many different "planets" that the user can play on, each with subtle variations (such as in gravity) that affect gameplay.
Spellings
メテオス - Japanese spelling
陨石大战 - Chinese spelling (simplified)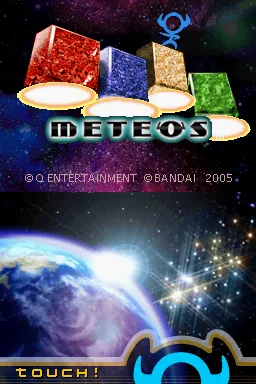 Credits (Nintendo DS version)
61 People (51 developers, 10 thanks) · View all
Game Design
Producer
Director
Planner
Art Director
Graphic Artists
Main Programmer
Programmers
Prototype Production Team
Sound Director
Sound Production Team
Sound Effects Assistant
Opening Movie Production
Producer / Director
[ full credits ]
Trivia
1001 Video Games
Meteos appears in the book 1001 Video Games You Must Play Before You Die by General Editor Tony Mott.
Competition
Tetsuya Mizuguchi, Meteos' producer, also produced Lumines, a Sony PSP game that is commonly held to be Meteos' most direct competitor.
Development
Producer Tetsuya Mizuguchi claimed to have been inspired by a myriad of pop culture monoliths during the game's production, including the television program "24" and the classic arcade game Missile Command.
Digital distribution
The first Nintendo DS game to be distributed wirelessly through proprietary download stations (a centerpiece of Nintendo's strategy at the E3 2005 expo) was the playable demo of Meteos.
Awards
4Players

2005 – Best Puzzle Game of the Year

GameSpy

2005 – Nintendo DS Puzzle Game of the Year
Contribute
Know about this game? Add your expertise to help preserve this entry in video game history!