Indiana Jones and his Desktop Adventures
aka: Indiana Jones y sus Aventuras de Despacho
Moby ID: 1843
Indiana Jones is an archaeologist and adventurer, searching the globe for hidden treasures and lost artifacts. Towards this end, Indiana Jones has arrived in Mexico during the 1930s. Although the people living in the town of Lucasio are friendly, others such as Nazis, desperados and dangerous creatures are not so much. Indiana must use his skills to accomplish his objectives and retrieve treasured objects.
Indiana Jones and His Desktop Adventures is an action/adventure game, seen in top-down view. Players control Indiana Jones as he collects items, attempts to solve all the puzzles and defeat his enemies in order to complete the mission. Indiana primarily uses his whip, but may also pick up a pistol or other weapons to use against foes. Indiana has a health meter on screen and will die if it drops to zero.
The design of the game is meant to be casual gaming and is simplified to give the player quick experiences. Upon beginning a game, the player chooses the size of the game world (and indirectly the length of time it will take to complete). The game world, all the characters, items, and Indiana's mission are then randomly generated. Individual locations, such as the town of Lucasio may remain the same, however the path to and from those areas may change considerably.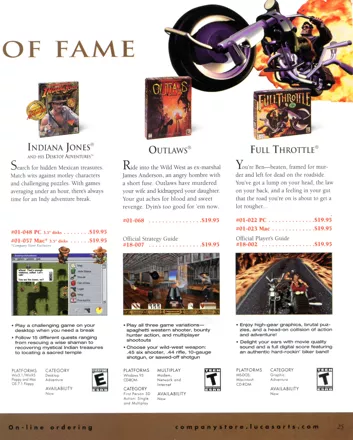 Credits (Windows 3.x version)
44 People (42 developers, 2 thanks) · View all
Project Leader
Game Design
Writing / Dialogue / Story
Lead Programming
Programming
Story
Lead Programmer
Programmer
Lead Artist
Production Manager
Music & Sound Effects Editing
Indiana Jones Theme Music
Lead Tester
Testers
[ full credits ]
Critics
Average score: 47% (based on 13 ratings)
Players
Average score: 3.1 out of 5 (based on 20 ratings with 0 reviews)
Be the first to review this game!
Trivia
References
In addition to the usual in-jokes about snakes, Nazis and swapping bags of sand for small statues, programmers included a scenario where workers were being frightened away by a strange idol: at the end of the "adventure" Indy has recovered the head of C-3P0 and life can return to normal.
Awards
Computer Gaming World

November 1996 (15th anniversary issue) – #15 Worst Game of All Time
Contribute
Are you familiar with this game? Help document and preserve this entry in video game history!