The late martial arts hero features in this platform game, with the aim of reaching a wizard in an underground lair, defeat of whom can offer him untold wealth.
In each area you must collect the many strategically-placed lanterns before exiting through the newly-revealed passageway. Some rooms also have escalator-type sections to run along, and the standard (although slightly illogical in this context) ladders. There are 20 areas to be completed.
On the way, you'll fight two enemies - a ninja and a green sumo warrior named Yamo. You can defeat them by punching, kicking, dropping on their heads or luring them into hazardous terrain, or even by making them accidentally hit each other. Even after they are killed, however, they keep coming back for more after a few seconds. The game also allows a second player to take control of Yamo.
There are lots of hazards to avoid by either walking round or jumping - walls of electrical charge and exploding bushes for example.
Spellings
ブルース・リー - Japanese spelling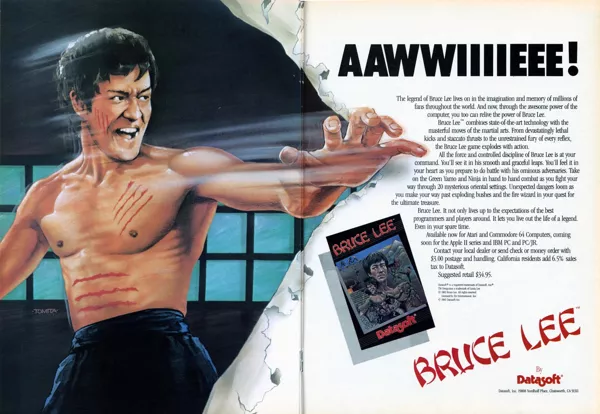 Credits (Commodore 64 version)
4 People
| | |
| --- | --- |
| Programming by | |
| Graphics by | |
| Music by | |
| Concept by | |
| Documentation by | |
Critics
Average score: 83% (based on 17 ratings)
Players
Average score: 3.8 out of 5 (based on 118 ratings with 5 reviews)
Not so good on PC as it was on 8-bits

The Good
It's still solid fighting arcade game for the time, especially on PC (where good action games were scarce). Interconnected screens, pick up lanterns, there's action and challenge and you're happy when on your new run you reached one more screen further compared to your previous run.

The Bad
I didn't like gfx. It was not state-of-the-art even on other platforms, but PC was really ugly. Taking into account that Tandy was already available, using just smeary CGA-composite mode put the game to lower gfx quality compared to 8-bit platforms. Other options (CGA RGB, or monochrome) were even more ugly.
Edit: I found in the end, that it's possible to setup 16-color gfx by setting machine as PCjr in DOSBox/DOSBox-x, so plus point for Bruce Lee.
Sound was also PC beeper only.
Controller was really hard to setup. Bruce lot of times made different action than I desired, and I was not able to calibrate it (but maybe my argument is not valid as maybe it's controller dependent). Or in opposite, different attempts to calibrate joystick made sometime controller being insensitive in some directions. In the end, controls were always a bit clunky even after lot of attempts.

The Bottom Line
Not a bad game, but can't give it higher review score as I knew this game from 8-bit computers where it was way better in every aspect (gfx, sound, controls). PC port is IMO weak (to see what does mean good PC port of those times, check e.g. Pitfall II which I reviewed as well).
PC Booter · by Vladimir Dienes · 2023
A challenge for platform die-hards.

The Good
Bruce Lee is a decent platform game with a lot of action thrown in. Reflexes are needed to pass certain sections, as is a lot of timing to jump past obstacles. You're pursued by two enemies, who unrelentlessly come after you, snapping at your heels.
It's very fun for anyone who likes platform games.

The Bad
There is no "easy" mode to help novice gamers get used to the game. Also, fighting the enemies is relatively easy and just gets irritating after a while. Finally, Bruce Lee only runs at the correct speed on a 4.77MHz PC.
Well, one more gripe, actually--you're Bruce Lee, yet you only have two moves, punching and a flying kick. A little disappointing from a master of martial arts.

The Bottom Line
If you love platform games that require good reflexes and timing, Bruce Lee fits the bill. I mean, come on--you're Bruce Lee!
PC Booter · by Trixter (8947) · 2000
Pretty fun kung-fu action game

The Good
What I probably remember most about this game was the music at the title screen, I really enjoyed this game as a kid growing up. Even when I finished the level and opened the gate to the next level, I'd still sit around and pound on that big fat green guy that chases you..
This game's atmosphere will surely bring you back to the 80's, I played the emulation of it recently and found myself playing it over and over again just like back in the day.... the game control was exceptionally good for its time. You could make him run real fast and do a flying kick and knock guys down :)
This game is a classic in my opinion....

The Bad
I remember in the game that you fall really slow for some reason, it was just an odd factor in the game, other than that, it was perfect for it's time!

The Bottom Line
Just an all around fun game, definitely was fun back then and surprisingly still fun today!
Commodore 64 · by OlSkool_Gamer (88) · 2004
Trivia
Awards
Commodore Format

January 1991 (Issue 4) - Listed in the 'A to Z of Classic Games' article (Great)

Retro Gamer

issue 37 – #18 in the "Top 25 Platformers of All Time" poll

Zzap!

May 1985 (Issue 1) - #15 'It's the Zzap! 64 Top 64!'
Contribute
Are you familiar with this game? Help document and preserve this entry in video game history!
Contributors to this Entry
Game added by Donny K..
Sharp X1 added by Trypticon. Commodore 64 added by Quapil. iPad, iPhone added by Sciere. ZX Spectrum, Amstrad CPC added by Martin Smith. Antstream added by lights out party. FM-7, Atari 8-bit, Apple II added by Terok Nor. DOS added by gamer p. MSX added by koffiepad. PC-88 added by j.raido 【雷堂嬢太朗】. BBC Micro added by sabreman.
Additional contributors: PCGamer77, Martin Smith, lights out party, Macs Black, c64fan, Patrick Bregger, Karsa Orlong, FatherJack, ZeTomes, robMSX.
Game added August 9th, 1999. Last modified August 17th, 2023.