Chex Quest is a 3D FPS running on a modified DOOM engine.
The planet Bazoik has been overrun by Flemoids- mucous-like alien creatures who are consuming all of the IFC's (Intergalactic Federation of Cereals) nutritious foods. You, a large square-shaped man must go in and rid the various levels of the miscellaneous green Flemoids.
Your weaponry starts out with a bootspoon (which can be upgraded to a Super Bootspork) and a small Zorcher (which uses Zorch energy). The Zorcher can, of course, be upgraded to frightening levels... Zorch is apparently an interdimensional substance, because enough of it can "send a Flemoid back to his homeworld."
You can strap on armor, of course- the armor is a Chex kibble (or a Super Chex kibble). This will protect you from the mucous that the Flemoids snort at you.
The opening contains a notice to concerned parents, avowing that the game is non-violent; to keep childrens' interest, the violence was replaced with (and they tried to be delicate here) gross booger sounds. Your character never "dies", but becomes immobilized by being covered from head to toe in mucous.
Healthy eating habits are also supposedly reinforced- health is regained by eating a bowl of fruit (10% energy), bowl of vegetables (25%), a glass of water (5%), or... yes... "a complete breakfast", featuring a bowl of cereal (presumably Chex), toast, glass of milk, and a piece of fruit, for a complete health boost.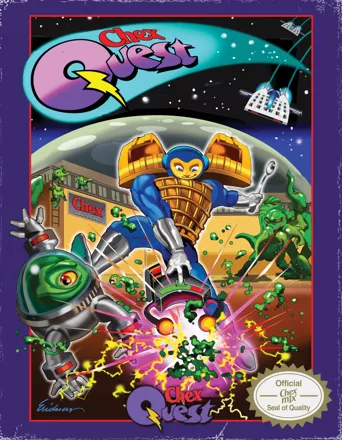 Credits (DOS version)
10 People
| | |
| --- | --- |
| Engine Programmer | |
| Engine Tools Programmer | |
| Creative Director | |
| Technical Director | |
| Programmer | |
| Art Director/Lead Artist | |
| Artist | |
| Sound Design/Music | |
| Sound Engineer | |
| Production Supervisor | |
Critics
Average score: 76% (based on 7 ratings)
Players
Average score: 3.1 out of 5 (based on 16 ratings with 3 reviews)
Gosh - Has It Really Been Almost a Decade?

The Good
The price for Chex Quest was just right (free) and the incentive of a second episode available for free on the internet had my little twelve year old heart skipping a beat at the time. The action is fast paced and the game's incredible cheesiness could probably still make me laugh today. The action is fast-paced and the levels are pretty good for a game you snag out of your cereal box. The music and sound effects are also pretty decent.

The Bad
It's nothing unique - that's for sure. In an era when the first person shooter was comparable to where side-scrollers had been just a few years earlier, Chex Quest doesn't hold up to well under its own weight and that of its predecessors.
It's a shame that Chex Quest did not start a trend regarding video games in cereal boxes. I would've ate that idea up! :)

The Bottom Line
This is a pretty interesting Doom knock-off. If you can find it, it's worth a try. It kept me very entertained almost ten years ago in my parents' basement and I spent even longer seeking out the second episode (in a time when I did not have internet access).
DOS · by Steve Thompson (87) · 2005
Mom! There's a game in my cereal box!

The Good
I remember getting this game out of a cereal box in 2nd grade. It was the coolest game ever. The graphics are pretty good compared to some of the games of it's time and the gameplay is fun. There is a good variety of weapons (zorch stuff) and it is interesting to see what which one does. The music is spiffy (in a good way), and basically it was awesome. Even today, it's still fun to play when you get tired of Halo or Bond games.

The Bad
Well...mostly, it was the corny story. According to a mom it would be considered "cute" so that's definitely out of the question. The whole "Zorch" thing was kinda stupid, but I guess it didn't bother me that much. Another problem was the length of the game. It was five easy levels (the last one's kinda tricky though) and you get sick of beating the same ones over and over after a while.

The Bottom Line
If you don't mind the corny story and the "Zorch" theme, this game is kinda neat and really fun. I remember going to my mom's computer lab in school after class and I would race one of my friends to see who could beat it first...
DOS · by Dason Rise (17) · 2003
The Good
Hey, it's a free game that comes in a cereal box -- and it's not crap!
A wacky, comical first-person perspective spoon'em'up (harhar) with nice level design, great graphics and fun gameplay. The artistic design is my favourite aspect of this title, followed by the level design and finally the solid, proven gameplay -- if you know what Doom feels like to play, this is similar.
The enemies look like green, jellified elephants or something and make funny noises. The game actually feels kinda surreal at times, as if you're there as a chex biscuit.

The Bad
If there was some multiplayer, e.g., arena levels this would be utterly fantastic. Alas, there is not.

The Bottom Line
Wacky, light-hearted FPS with solid gameplay.
DOS · by Tom White (12) · 2004
Trivia
Cereal
This game was provided free on specially marked boxes of Chex cereals.
Doom .wad
For Mac users, there is a hidden Doom .wad (but no full game).
Freeware release
If you went to the maker's web site, later episodes to the game were made available for free.
Information also contributed by Adam Baratz
Related Sites +
Chex Quest Central
Archived version of: Chex® Quest central is here to provide you with id Software's game Doom's conversion, Chex® Quest! Go here to learn more about Chex® Quest Central!
Let's Play Advergames
judge reinhold's playthrough of several advergames, including this one, on the Let's Play Archive
Contribute
Are you familiar with this game? Help document and preserve this entry in video game history!