Battlehawks 1942
Moby ID: 226
Fly as an American or Japanese pilot in one of 4 operations in the Pacific Theatre during WWII. This simulation can also qualify as educational software because the manual features tons of historical information. Twelve aircraft (including variants) and about 20 types of ships are represented. First of the Lucasfilm/Lawrence Holland WWII air combat trilogy.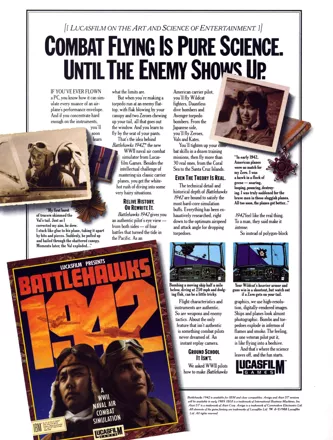 Credits (DOS version)
21 People (18 developers, 3 thanks) · View all
Created & Designed By
Creative Contributions
Lead Programming
Additional Programming
Background Art & Special Effects Animation
Warship & Aircraft Art
Additional Warships
Sound Effects
Project Leader
Producer
Production & Marketing Management
Production & Marketing Assistant
Chief Manual Writer
Manual Contributors
Manual Design/Layout
Maps & Illustrations
Copy Editor
Package Design
Technical Consultant
Other Technical Information
Thanks To
[ full credits ]
Critics
Average score: 80% (based on 16 ratings)
Players
Average score: 3.7 out of 5 (based on 30 ratings with 3 reviews)
The game that defined all future WWII air combat simulators

The Good
First of all, this game single-handedly got me interested in WWII, and therefore I love it. The manual's historical information drew me in, and as I read about the exploits of the heroic pilots of the War I wished I could have been there to experience it. I loved learning about those old planes, but being able to actually fly them was such a great feeling. I gained tremendous respect for the WWII soldiers, sailors, and pilots because of this game. So I guess you could say the thing I liked most about the game was the learning experience it gave me.
But on the technical side, I was blown away by the VGA graphics. These were the most advanced graphics I'd ever seen. They made my older games like Gato and F-15 Strike Eagle look so primitive. The game ran fast, the sound was good, and it was very challenging! Flying a TBF Avenger against Zeros was really hard, and I was able to see why they had such terrible losses during the war.

The Bad
The game was only limited by the technology at the time, and it's hard to find anything wrong with it. I would love to see an updated version similar to Microprose's European Air War with 3D SVGA graphics, more planes in the air, more types of planes represented, etc. My only complaint is that the missions didn't have any type of randomization, and also the missions didn't have a whole lot of planes in them (I think the limit was like 16 or something).

The Bottom Line
Incredible! If there's any way, you should find a copy of this game and play it. Also, we need to start a writing campaign to LucasArts and Totally Games and get them to either update these old games, or make new ones (maybe a BattleHawks 1943?).
DOS · by Raphael (1245) · 1999
Less than perfect, but still very good WWII flight sim

The Good
This was the first WWII flight sim game I played and I loved it. There is a plethora of options, settings and missions to play, from both sides of the war, Americans and Japanese.

The Bad
The game has 3 main issues.
1) The framerate suffers a lot when there is a lot going on in the battle. Even back in the 80s it felt bad, but it had the charm to win you over.
2) No joystick control. Yes, for a flight simulator. You can only use the mouse with the keyboard, or just the keyboard.
3) No dynamic campaign, which to be fair wasn't something you would get back then.

The Bottom Line
A solid but flawed flight simulator of the Pacific theatre of WWII between Japan and USA. I love it and I still play it, but new comers who are scared of low framerates might want to avoid it.
I did an extensive review of the game on my YouTube channel so if anyone wants to check it there, please feel free.
Atari ST · by trusteft (6) · 2022
Trivia
Awards
Computer Gaming World

October 1989 (Issue #64) – Action Game of the Year
Contribute
Are you familiar with this game? Help document and preserve this entry in video game history!