Baldur's Gate II: Shadows of Amn (Collector's Edition)
aka: Baldur's Gate II: Schatten von Amn (Premium Pack), Baldur's Gate II: Shadows of Amn (Collectors' Edition)
This collector's edition of Baldur's Gate II: Shadows of Amn includes a pack of trading cards with characters from the game, a cloth map of the game area, special edition CDs, and, if it was pre-ordered, a bonus CD with more characters and items.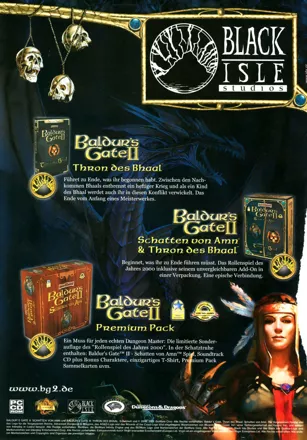 Credits (Windows version)
226 People (223 developers, 3 thanks) · View all
Division Director
Senior Producer
Associate Producer
Sound/Localization Producer
Division Operations Manager
Divisions Operations Asst.
Special Thanks To
In Memory Of
Production
Lead Designer
Core Design Team
Scripting and Data Entry
Additional Design
[ full credits ]
Related Sites +
Baldurdash
A site by Kevin Dorner of Bioware containing hundreds of unofficial bug fixes for both Shadows of Amn and Throne of Bhaal that weren't corrected by any of the official patches.
Contribute
Know about this game? Add your expertise to help preserve this entry in video game history!