Icewind Dale: Heart of Winter
aka: Icewind Dale: Herz des Winters, Icewind Dale: Serce Zimy
Picking up after the conclusion of Icewind Dale, peace has returned to Icewind Dale... or so it seems. A plot by the northern Barbarians to attack the Ten Towns is underway, and it is up to the party of adventurers to investigate and stop this plot.
This expansion on the original game is more of the same. The game focuses on epic battles and powerful magics, relying on the plot only to provide a background for the fighting and spell-casting. Included are new weapons, armors, and enemies. Battles are now more like Baldur's Gate II: Shadows of Amn than in the original, relying heavily on strategy and spell-casting to combat very powerful enemies.
The player can import their party from the original game to continue their adventure.
Spellings
冰風之谷:寒冬之心 - Traditional Chinese spelling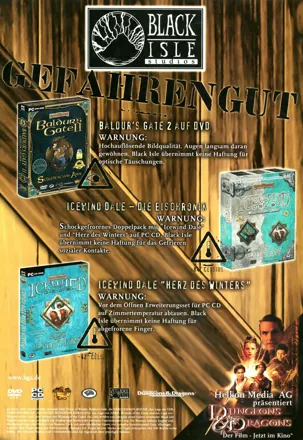 Credits (Windows version)
150 People (142 developers, 8 thanks) · View all
Production Division Director
Senior Producer
Producer
Line Producer
Audio & Localization Producter
Division Operations Manager
Lead Programmer
Programmers
Additional Programmers
Movie and Audio Compression Technology
Lead Artist
Artists
[ full credits ]
Trivia
Working title
Black Isle Studios used to code-name its projects after U.S. presidents and vice-presidents, an idea by Josh Sawyer. The code-name for this game is Project Adams.
Contribute
Know about this game? Add your expertise to help preserve this entry in video game history!