Description
The Genesis title based on Batman Returns is a platform game in which the Dark Knight must traverse five action-filled levels on his way to confront the Penguin.
Areas include the rooftops of Gotham City, Max Shreck's department store, the Red Triangle Circus and the sewers. Besides run-and-jump action, there's also a lot of combat in the game, as many of the Penguin's henchmen stand in Batman's way. He can knock them out with punches and kicks and a number of extra weapons stored in his utility belt. These include batarangs, which come in standard and self-seeking varieties, and smoke bombs that stun enemies for a while. In addition, Batman can shoot from his grappling gun and unleash a deadly swarm of bats towards enemies. All of these weapons have limited ammo, however, that must be collected.
Other special tools Batman can use include the grappling hook to reach high places or swing across chasms, and his cape, which can be used to slow falls.
Each of the five levels features several boss battles against Catwoman, the Penguin and others.
Spellings
バットマン・レターンズ - Japanese spelling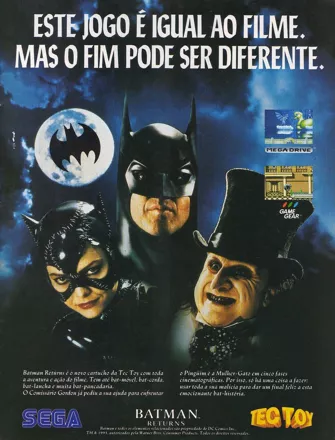 Credits (Genesis version)
27 People · View all
Programmed by
Produced by
Designed by
Additional Design by
Artwork by
Additional Artwork by
Music by
[ full credits ]
Contribute
Know about this game? Add your expertise to help preserve this entry in video game history!
Contributors to this Entry
Game added by Terok Nor.
Additional contributors: j.raido 【雷堂嬢太朗】.
Last modified February 22nd, 2023.