(prices updated 9/26 8:38 AM )
Description
The private corporation O.C.P. have taken control of the overwhelmed police force of Detroit. In order to deal with an immense crime wave hitting the city, a cyborg law enforcement agent has been created.
RoboCop is a side-scrolling action game that consists of six stages. These six assignments include locations at the streets of Old Detroit, city hall, a warehouse, O.C.P. headquarters, the steelworks, and the board room. RoboCop dispatches his enemies with punches and a handgun (a special issue Auto-9) that has an infinite amount of ammo. RoboCop is not invincible though, as he can only take so many hits before his power runs out, plus his battery power gradually drains as he moves. However, lost power can be restored by finding power icons, and lost battery power can be restored by finding battery chargers found throughout the stages. Other items RoboCop can find and use are a machine gun that comes with fifty bullets and the powerful cobra gun.
RoboCop has four functions he can use. The infrared vision function lets RoboCop detect weak walls that can be punched in order to reveal shortcuts. The punch function lets the player know that the enemy they're facing can only be defeated by punching, no use of weapons is permitted. The foe detector function shows how close RoboCop is to the boss enemy of a stage. The faster it blinks, the closer he is. The energy/power alarm function will start sounding an alarm if either RoboCop's energy or power gets too low.
There is also a target practice bonus round between stages, where the player has to shoot as many targets as they can in a limited amount of time to earn bonus points to add to their score.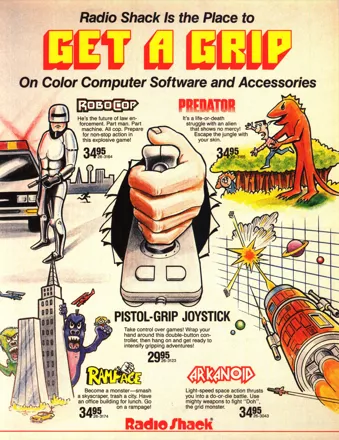 Credits (TRS-80 CoCo version)
| | |
| --- | --- |
| Programmed by | |
| Cover Artwork | |
Critics
Average score: 56% (based on 19 ratings)
Players
Average score: 3.1 out of 5 (based on 42 ratings with 0 reviews)
Be the first to review this game!
Trivia
TRS-80 CoCo version
The TRS-80 CoCo version was one of only two cartridges that Radio Shack/Tandy put out which used a ROM >32KB (the normal technical maximum for a CoCo 3 cartridge). Greg Zumwalt designed "super cartridge" hardware that included a built in MMU (Memory Management Unit) to break this barrier, and used 128KB of ROM with RoboCop. The other game using this hardware was Predator, with 64KB of ROM. In an article explaining the hardware in Rainbow magazine (TRS-80 CoCo's largest and longest running dedicated magazine), Zumwalt explained that he had prototyped a second version of the super cartridge that could handle up to a 512KB ROM, but no games were ever released using this hardware (probably due to costs and the CoCo nearing the end of its life at Radio Shack).
Information also contributed by L. Curtis Boyle
Contribute
Are you familiar with this game? Help document and preserve this entry in video game history!