The Witcher 3: Wild Hunt - Complete Edition
aka: The Witcher 3: Wild Hunt - Game of the Year Edition, Wiedźmin 3: Dziki Gon - Edycja Kompletna, Wiedźmin 3: Dziki Gon – Edycja Gry Roku, Zaklínač 3: Divoký Hon - Edice Hra Roku, Zaklínač 3: Divoký Hon - Kompletní Edice
The Complete Edition, also known as the Game of the Year Edition in Europe, of the 2015 game The Witcher 3: Wild Hunt includes the following:
Also included in the GOTY version are all available side quests, alternative looks, armor- and weapon-sets, which were previously released as single downloads:
The December 2022 update for The Witcher 3: Wild Hunt - Complete Edition for Windows, PlayStation 5 and Xbox Series X|S was available as a free next-gen update for owners of the PlayStation 4 and Xbox One versions respectively or as new separate retail version (PS5/Xbox Series). This is the first release for PlayStation 5 and Xbox Series X|S.
Its new content included various technical upgrades like Performance Mode and Quality Mode. Quality Mode focuses on ray tracing, FidelityFX Super Resolution (FSR) upscaling , dynamic resolution scaling technology, whilst Performance Mode focuses on a higher frame rate cap of 60 FPS (versus 30 FPS).
The next-gen update also comes with integrated gameplay/content mods, from either the community or created by CD Project in-house.
Other gameplay additions and improvements included: quick sign casting, various new close-up camera modes, a dynamic mini-map plus objective boxes, new map filters and other quality of life features.
A further tie-in with the Netflix series "The Witcher" sees various new items and gear from both season 1 and 2 included, as well as a whole new side-quest called "In The Eternal Fire's Shadow"
Spellings
Ведьмак 3: Дикая Охота — Полное издание - Russian Nintendo Switch spelling
Ведьмак 3: Дикая Охота — издание Игра года - Russian spelling
巫師 3:狂獵-完全版 - Traditional Chinese spelling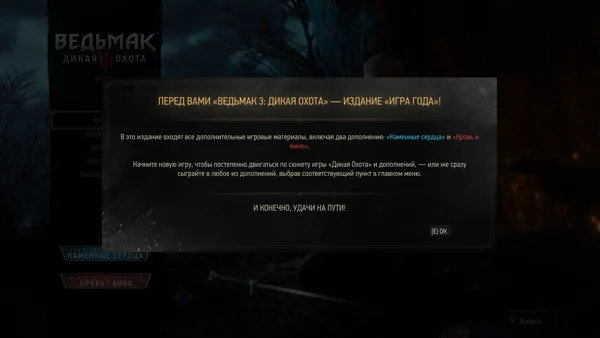 Contribute
Know about this game? Add your expertise to help preserve this entry in video game history!