Xenophobe
aka: Xenophobe: Exterminate the Aliens
Moby ID: 8255
Xenos. The very name strikes fear into every colonist's heart. A distress call is received from space stations orbiting your homeworld, then silence. A single ship escapes, piloted by a battered man who tells the tale of pods that hatch into acid-spitting Xenos. A small band of engineers has been dispatched to combat the Xeno threat before it takes over all the space stations and, eventually, your homeworld.
Xenophobe is a side-scrolling shooter with platform elements. Assemble your band of engineers and fight the Xenos on each station, striving to either clear it or abandon it. You start out with a standard issue laser, but can pick up additional weapons as you find them, including Phasers, Lightning Rifles, Poofer guns, and bombs.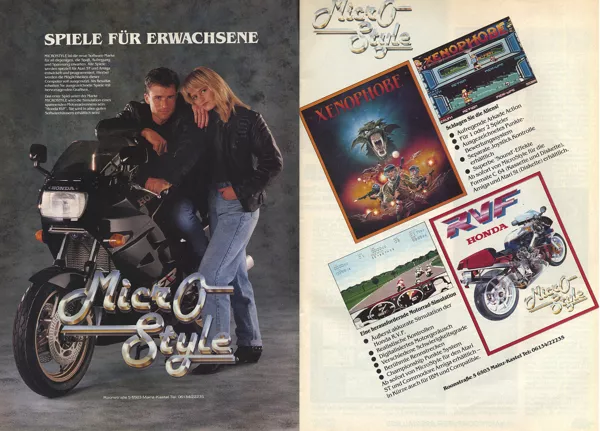 Credits (Arcade version)
14 People
| | |
| --- | --- |
| Programming | |
| Art and Graphics | |
| Sound and Music | |
| Hardware Design and Support | |
| Mechanical Design | |
| Technical Support | |
| Game Concept and Design | |
| Development | |
Critics
Average score: 64% (based on 24 ratings)
Players
Average score: 2.5 out of 5 (based on 53 ratings with 2 reviews)
Proof that coin-op conversions can be just as fun as the original, regardless of resolution.

The Good
Being a fan of the original game, which blatantly plagarizes Aliens with a comic-book feel, I was pleasantly surprised by the Lynx port of Xenophobe. Not only is it true to the arcade coin-op in gameplay, but it manages to expand gameplay without being unfaithful to the original.
The original game uses a resolution of 512x480 to display three seperate playfields, so that you can see yourself and two of your teammates at the same time. Even though a single playfield is a third of that, you would think it impossible to represent a virtual "512x160" on a tiny 160x102 screen -- but the results are fantastic. Check the screenshots yourself if you don't believe me. It's clear that every single sprite and background was lovingly retooled for the Lynx's small screen down to the level of single pixels.
Because the playfield only represents the current player, you can ComLynx one more than the original, up to four players at the same time. To compensate for this, the designers made an interesting choice in doubling the number of characters you can play, and allowing you to play them until the game is over. For a single player, this means that you have more "continues"; for multiplayer, it means that you can continue at least once.
Multiplayer has another surprise in that you can play a snotterpillar. Not played for points, playing as a snotterpillar is just to screw with your (now former) teammates when there aren't any continues left.

The Bad
The only bad thing I have to say about the Lynx port of Xenophobe is that it retains the difficulty level of the original arcade game. The premise is great, but the core concept can overwhelm you on the later levels to the point where you are constantly getting spit on, zapped, knocked down, chomped, and hung (via tentacles) for 10 to 20 seconds on end, without any chance of fighting back. Teamplay strategies may mitigate this.

The Bottom Line
Even if you're not a fan of the arcade original, you owe it to yourself to get this if you own a Lynx. Multiplayer is a blast, and single-player gives you enough continues that it stays fair longer.
Lynx · by Trixter (8946) · 2003
The Good
Not a whole lot. This game features a 2-player split screen, which allows you to pair up with a friend and get bored together.

The Bad
The graphics, sound effects, and gameplay are sub-par with any game at that time. The game dosen't end; you just keep going until you get tired of blowing up the same aliens.

The Bottom Line
Terrible. Add this to the pile of really bad, purposeless NES games out there. Review: 7 (out of a scale of 1 to 176) Serious Review: 3 out of 10
NES · by Patrick Connors (4) · 2003
Contribute
Are you familiar with this game? Help document and preserve this entry in video game history!