Beyond Zork: The Coconut of Quendor
aka: Beyond Zork: The Coconut of Quendor - An Interactive Fantasy
Aimlessly wandering through the Southlands of Quendor, the hero of the game encounters the Implementors, powerful beings who warn him of a terrible danger: the Coconut of Quendor, the very embodiment of Magic, has been stolen by terrifying monsters known as Ur-Grue, said to be the spirits of fallen Implementors. The task is clear, but by no means easy: locate the Ur-Grue and return the Coconut of Quendor to its rightful owners!
Beyond Zork: The Coconut of Quendor introduces a somewhat different gameplay system compared to the previous text adventures of the Zork series. Text-based interaction and puzzle-solving are still present; however, role-playing elements have been added to the mix. The player character has six attributes assigned to him: endurance, strength, dexterity, intelligence, compassion, and luck. These can be determined by the player at the beginning of the game, randomly chosen by the game, or provided as part of a pre-generated character. The attributes affect the outcome of combat, which occurs in certain locations. They can also be raised or lowered during the game by gaining experience, drinking and eating certain items, wearing accessories, or in another fashion (sometimes humorous - for example, intelligence will be lowered by typing in swear words). Many locations and objects in the game are randomly generated.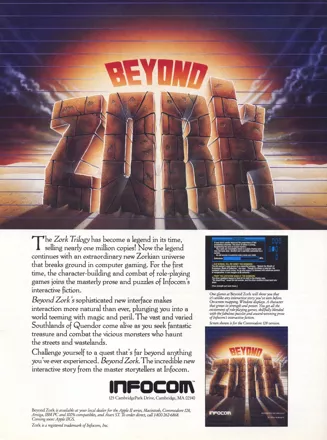 Credits (DOS version)
27 People · View all
Design
Testing
Package
Project Manager
Copywriter
Cover
Map & Book
Photography
Production
Micro Interpreters
[ full credits ]
Trivia
Extras
The box contained the booklet "The Lore and Legends of Quendor", the map "Southland of Quendor", a registration card with promotion for Wishbringer and a flyer "Infocom Presents Lane Mastodon for InfoComics".
References
Based on the illustrations in the manual, the Coconut of Quendor looks pretty much like the Holy Hand Grenade of Antioch from Monty Python and the Holy Grail, which also had a unusual fascination with coconuts.
Information also contributed by beatbox
Contribute
Know about this game? Add your expertise to help preserve this entry in video game history!
Contributors to this Entry
Game added by Brian Hirt.
Apple II, Macintosh, Amiga added by Terok Nor. Apple IIgs added by Игги Друге. Commodore 128 added by Mr Giggles. Atari ST added by Belboz.
Additional contributors: Alan Chan, Dan Homerick, Jeanne, Pseudo_Intellectual, David Ledgard, mo , c64fan, Patrick Bregger.
Last modified February 27th, 2023.