Dragon Warrior VII
aka: DQ7, Dragon Quest VII: Eden no Senshitachi, Dragon Warrior 7: Warriors of Eden
In "Dragon Warrior VII", you are a 16 year old son of a fisherman living on a small island called Estard. There is nothing else on the planet beside this island and the vast ocean surrounding it. One day, you and two friends make a discovery and realize the the world was once much more than Estard Island. So what caused it to disappear? In order to find that out, you travel to the past, where you hope to solve the mystery and to restore the present world the way it was before.
"Dragon Warrior VII" shares with its predecessor the job system: you can assign character classes ("jobs") to your party members, and learn many different abilities, depending on the job you have chosen. The game maintains the traditional style of the series, including strictly medieval setting and first-person turn-based combat.
Spellings
ドラゴンクエストVII:エデンの戦士たち - Japanese spelling
勇者斗恶龙VII - Chinese spelling (simplified)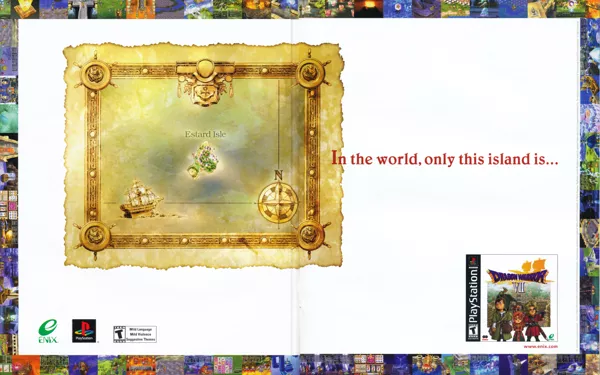 Credits (PlayStation version)
94 People (93 developers, 1 thanks) · View all
Game Design
Scenario Director
Original Character
Monster Designer
Music Composer
Director of Programming
Art Director
Scenario
Programming
Graphic Design
[ full credits ]
Critics
Average score: 74% (based on 21 ratings)
Players
Average score: 3.7 out of 5 (based on 20 ratings with 1 reviews)
Massive and fun RPG game disliked for its archaic graphics

The Good
Dragon Warrior VII is a massive RPG adventure with tons of technical improvements over previous titles and tons of side quests/completion to it that will surely lead you over the 100-hour time mark before you complete it. The time travel and new puzzle elements are cool new aspect to the game. The game sticks with the classic feel of Dragon Warrior series, even keeping the graphics of the Super Nintendo in this PlayStation installment. It is critics biggest complaint, but if you look past the graphics this game is great.

The Bad
I was very content with this game, there is nothing I really dislike about it.

The Bottom Line
A medieval RPG where you restore a world lost to an evil creature and venture into kingdoms, towers, and dungeons while fighting monsters.
PlayStation · by Carlos Hernandez (2) · 2009
Trivia
Awards
GameSpy

2001 – Best PSOne Game of the Year
Contribute
Are you familiar with this game? Help document and preserve this entry in video game history!