Stargate
aka: Defender II, Stargate: The Arcade Superstar!
Save the humanoids from the impending aliens in the sequel to Defender. The task is still rescuing humanoids before Landers can turn them into Mutants, while avoiding and shooting other foes, however you must now carry humanoids to safety through the Stargate of the title.
Entering this Stargate not only warps you to the nearest humanoid in jeopardy, but can also warp you ahead (while on the first 15 levels) if you enter it with 4 or more humanoids, and give you extra lives if you warp with 10 humanoids, so there is a trade-off between guaranteeing the safety of existing humanoids, and trying to advance your position
There are more enemies on screen than ever before. The Inviso button makes you invisible to enemies, but also to yourself, so you will have to follow your bullets to work out where on the screen you are.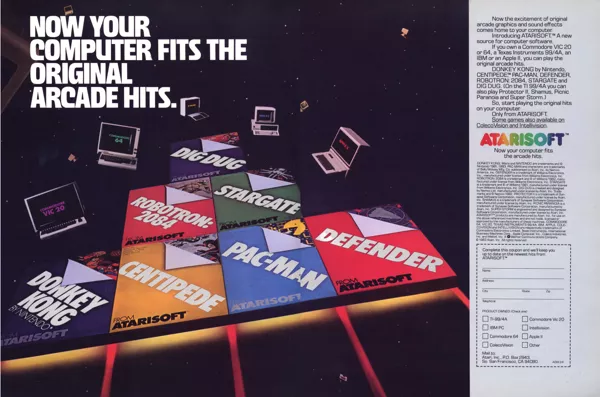 Credits (Arcade version)
7 People
| | |
| --- | --- |
| Designed by | |
| Programmed by | |
| Executive Producer | |
| Character Graphics | |
| Sounds | |
| Cabinet Art | |
| Hardware | |
| Legals | |
Trivia
1001 Video Games
The Arcade version of Stargate appears in the book 1001 Video Games You Must Play Before You Die by General Editor Tony Mott.
Developer commentary
Eugene Jarvis, creator of both Defender and its sequel Stargate, says that although the gameplay and coding of Stargate is more refined, he prefers the relative simplicity of the original Defender.
[Source: Retro Gamer Magazine, Load 55]
Title
Defender II is also known as Stargate. Williams determined that the game's name infringed on an existing trademark (apparently for a board game), and the name was changed.
Despite Williams' assertions, though, the game's name was not changed immediately after the arcade release. The disc reveals that Williams programmers had to go to Atari to reprogram the title screen for the already-finished 2600 version... the problem is, the game was in release as Stargate for the 2600 later in the year - the Defender II variant didn't show up in stores until 1988. Unless the 2600 game was programmed and released at the same time as the arcade game, Williams' timeline is faulty.
Awards
Retro Gamer Magazine

(Issue 46) - #12 in a "Top 25 Atari 2600" Games pollInformation also contributed by Robert Morgan
Contribute
Know about this game? Add your expertise to help preserve this entry in video game history!