Mick & Mack as the Global Gladiators
aka: Global Gladiators
(prices updated 9/19 9:58 AM )
Global Gladiators is a platform game licensed from fast food chain McDonalds. While playing through the game's 12 levels you'll notice McDonalds logos, burgers and all sorts of family restaurant type stuff as you take Mick and Mack (the game's protagonists) on a journey to clean up "Monsters of Slime World", "Toxi-Town" and more.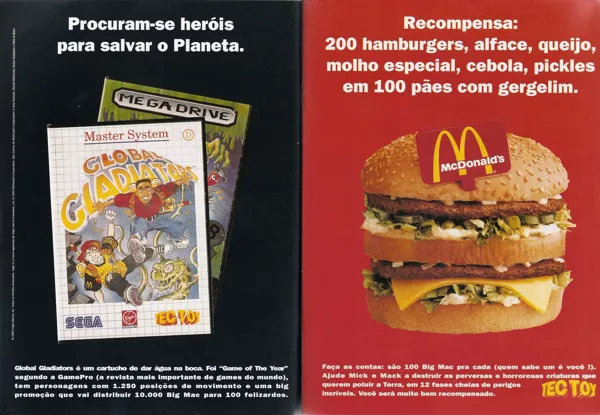 Credits (Genesis version)
88 People (39 developers, 49 thanks) · View all
Critics
Average score: 76% (based on 29 ratings)
Players
Average score: 3.1 out of 5 (based on 29 ratings with 3 reviews)
Another Classic 2D Platform Game From Virgin.

The Good
In the 1990s, Virgin released a series of incredible 2D platforming video games, which all featuring amazing 16-bit era animation, graphics, music and sound effects.
Global Gladiators is a fine example of Virgin 2D platforming that looks and sounds amazing. Our two young heroes are given water pistols (which look similar to the Super Soaker water gun) and told to help clean up the environment, which has come under assault from toxic monsters.
The water guns have unlimited ammo, shooting a short range green slime, and the environmentalist-themed levels have plenty of standard 2D secrets to find (i.e. invisible platforms, extra lives, health restoration, etc).
Your primary objective in each level is to collect enough Golden Arches in order to be able to exit the level, assuming you also manage to reach the exit.
Amazingly enough, the video game is able to stand on its own as a fun 2D platformer. It does not have shameful plugs for the fast food industry. Beyond the familiar Golden Arches and the marginally helpful Ronald McDonald, the game stays clear of telling kids to eat more fast food.
Global Gladiators is also one of the few Sega Genesis games that has an African American is a playable character. It is nice to see an effort being made by the game makers, both in terms of human diversity and environmentalism.


The Bad
The Global Gladiators only features four distinct worlds, with several levels in each world. It is a testament to how fun the game is, that the player is left wanting more, but the game does feel a tad bit too short.
Like Cool Sport, Global Gladiators does not have bosses at the end of each level and the in-game story line is kept to a bare minimum.
The intermission sequences at the start and end of the game are certainly nice to look at, but simply too short and lacking any sort of depth. Their is actually a final boss to defeat in Global Gladiators, but you will have a hard time believing that he posed much of a threat to the global environment.
In another comparison with Cool Spot, the primary weapon in Global Gladiators cannot be upgraded and you may get a tad tired of shooting out short range slime from water guns.
Heck, you may also question how spreading all the slime around is really good for the environment or why a giant, multi-national fast food empire, with magical employees, has to rely on two kids to clean up the planet?

The Bottom Line
The Global Gladiators looks and sounds amazing and is a testament to the creativity at Virgin. Beyond the technical aspects, its nice to see a game show some interest in an environmentalist message and racial diversity.
Genesis · by ETJB (431) · 2013
Two kids get transported into a comic book. Now how awesome is that?

The Good
Second game from Virgin that is based on a McDonald's license.
Story: Mick and Mack are reading their Global Gladiators comic book while eating at McDonald's, their favorite restaurant. One of the kids say that being a global gladiator would be a blast. Just then, the McDonald's mascot, none other than Ronald McDonald himself, magically transports himself out of the comic book and transports the kids in. The kids then find themselves in a strange world full of monsters.
Gameplay: The game is split up into four worlds, nicknamed "Slimeworld", "The Mystical Forest", "Toxi-Town", and "Arctic", all of them consist of three levels each. The object of each level is not only to kill different enemies that inhabit each world with your trusty GooShooter. (The third world is based on a construction site, so all the enemies look and act like killer appliances.), but to collect so many arches (75, I think) in order to pass the level. Ronald McDonald should appear cheering you on at the end of the level, but if he does not, then that means that you didn't get enough arches and therefore unable to pass the level until you go back and get more.
Some arches are out of reach, even by jumping high in the air or by jumping off other platforms to get them. If you are lucky, you might be able to jump and land on an invisible platform. You are given a certain amount of time to complete each level, but getting a clock will give you more time. If you are short on lives, you can get a icon that has your character's face on it and you'll receive one extra life. You also receive another life if you collect 100 arches. Collecting hearts increases your energy and gives you 1000 points. You should also watch out for an yellow arrow enclosed in a red square, as these act as restart points and allow you to restart the level at that point when you die.
Between each level, you can read one of the sayings that the game has to offer. If you collect 80 hearts in a level, you are treated to a bonus game where the object is to collect glass bottles, cans, and old newspapers, and put them in the bins that are marked with their icon. This game ends when you are hit with an anvil or when you let rubbish lay on the ground. If you keep losing this game, the game's options will let you practice the bonus game, but the same rules apply as when you are playing for real.
Graphics: There are specific color schemes that relate to each world. Since the first world is called "Slimeworld", for example, you only see green monsters and green structures. In "Arctic", you only see white animals that roam around. As well as the enemies, the characters are drawn perfectly. The game box describes the graphics as "bodacious", but I wouldn't go that far. I would describe them as very good.
Music & Sound: The music in Global Gladiators is close to being excellent. Almost all of the tunes are rock 'n roll-like, making it the type of music that you can tap you foot to. The sound effects are cartoonish, and some of them can be heard when you watch a Saturday morning cartoon show. There are a few vocal sounds where someone shouts out lines like "Yeah!", "Awesome!", and "You did it!", making you think that the game is cheering you on when you get power-ups or get a certain number of arches.

The Bad
Like The Incredible Crash Dummies, this game suffers from the spectrum-like background that is visible while you play the game. The only exception to this rule is the last two levels of "Arctic", where glaciers form part of the background. Also, you will not fight a boss at the end of each world. You defeat only one boss just before completing the game, making the game less fun.

The Bottom Line
I find it hard to believe that you would play Global Gladiators because Ronald McDonald is your hero and that McDonald's is your favorite place to eat and hang out. Regardless of these two reasons, I would play the game because it is the type of platform games where you do not have to kill shit, but accomplish some objectives.
Rating: ****
Amiga · by Katakis | カタキス (43051) · 2004
A POSITIVE MESSAGE FROM THE GREASEBALLS THAT BROUGHT YOU McNUGGETS!

The Good
Let's get the whole McDonalds thing out of the way quickly - apart from some small references that I hope you wouldn't let sully your enjoyment this is just a spot on little platformer with a positive ecological message. Yeah I know, being called Global Gladiators and being about the big M you may have expected it to be about forcing burgers down overweight teenagers throats and slowly but surely dominating the planet, but no - somehow McDonalds in the early 90's managed, with this game at least, to align themselves with the green squad in a bid to look all 'Captain Planet' to the kids. Secretly we all know they would sell us the eco-warrior jive with one hand and force feed us offal and tip the greasy packaging straight into the ocean with other, but it is what it is - an anomaly, especially considering it's darn good. Usually such an outing would end in tears but they've dodged the bullet with some strong elements that I will now pop into a handy bite sized list format for you to devour with you eyeballs and mind:
THE GOOD - - Brilliant graphics, on par with the SMS version of Chuck Rock II. - Top animation and use of the colour pallet. - Intuitive, responsive and flexible controls. - Great level design with a few interesting themes - especially the first, phlegm-tastic looking 'Slime World.' - Good positive eco friendly message complete with recycling mini game! - Inventive enemies that move around with equally smooth animation as your little character. - Decent soundtrack that doesn't grate and if it does it can be turned off

The Bad
THE BAD: - Not too sure what your character is firing - looks like some Maccies secret sauce! - The whole 'McDonalds thing' is as hard to swallow as their eco-friendly alignment...not to mention their chicken nuggets. - A bit derivative.

The Bottom Line
CONCLUSION: One of the better platformers that infested the 8-Bit era and one of the best ports of said game. A worthy buy and at least you know at the second to third hand condition that you'll be purchasing the game in that none of your hard earned cash will be going into the pockets of the greasy coronary inducing evil that is McDonalds.
SEGA Master System · by Haunted_Nostril (2) · 2009
Trivia
Unreleased Versions
A version for SNES was planned, but it never passed a beta version. Several years later, a playable version leaked via the Internet.
Related Sites +
Let's Play Advergames
judge reinhold's playthrough of several advergames, including this one, on the Let's Play Archive
Contribute
Know about this game? Add your expertise to help preserve this entry in video game history!